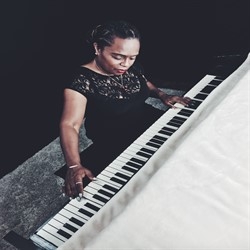 Ewa Beach, HI, March 03, 2017 --(
PR.com
)-- Many people would agree, the best kind of music is the music that comes from the heart. While many artists have complained of finding blocks in this area, multifaceted musician and singer BeverlyB has seen it become a huge part of her work, not just live where it's more commonly expected, but also to do magical things in the studio. In exciting news the talented artist, whose parents originally hail from multi-ethnic Surinam, a place whose music can be as diverse as its people, recently announced she has re released her studio album "Song of YHVH" which showcases, her inspirational, spontaneous and very driven work.
"I had released 'Song of YHVH' a few years ago, but didn't do a great job marketing it, and the results were seen in its sales," commented BeverlyB. "The album is dedicated to the experience of losing one of my foster children and the feelings that surrounded the initial loss. All of the songs and lyrics were created spontaneously in the studio. I often felt like the music was coming to me from a better and brighter place. It was a very liberating experience."
According to the artist, 2017 will continue seeing her accept regular gigs to stay connected with fans and promote her new album; studio work and perhaps even a guest appearance or two where is in increasing demand.
Feedback from fans continues to be passionate.
They have described BeverlyB's music as unique heavenly worship of the best kind.
Taemi A. Hawaii, "I can feel God all over me it is awesome!" Zak F. Uganda, "Am inspired all the time wow!" Augustine J. Arab Emirates, " I can't afford to miss any of your worship moments."
For more information be sure to visit
beverlyb.bandcamp.com/
and
www.facebook.com/inspirationaljazz