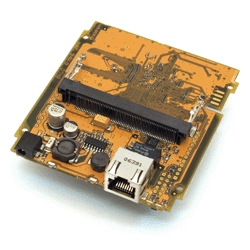 Kaunas, Lithuania, February 05, 2008 --(
PR.com
)-- Today Wilibox unveils a new sales portfolio presented under the name Wiligear. This new division targets the promotion of their own designed hardware powered with the fully developed WILI-S or WILI-MESH software platforms along with compatible wireless components. To visit the new web go to
http://www.wiligear.com
.
This launch is also followed by a new release of a multi-purpose wireless platform based on a groundbreaking 400 MIPS ARM920 RISC processor. The WBD-111 is the smallest wireless PCB on the market, and has the power and features to outperform its more expensive competitors. With 8 MB of flash and 32 MB of RAM, the WBD-111 can handle a wide range of applications supported by the WILI-S software platform – a carrier grade software package known for its robustness and flexibility. This tiny 'beast' can handle up to 94 Mbps of real TCP throughput and is equipped with on-board IEC 61000-4-2 (ESD) ± 15 kV (air), ± 8 kV (contact) and IEC 61000-4-4 (EFT) 40 A (5/50 ns) protection, fuse protection, polarity-independent POE, as well as on-board overvoltage and overheating protection. The WBD-111 features detachable LED and reset connectors, enabling easy integration into a variety of outdoor enclosures, including the standard 86 mm aluminum profile enclosure. This product is environment-friendly, requiring only 1.8 Watts of power for base operation, is fully RoHS compliant, and all user manuals and datasheets are available online for download. Besides, the new product is compatible with high-power mini-PCI radio modules.
The new CPU board comes pre-loaded with a highly functional WILI-S software platform and could be used in various scenarios ranging from access point to customer premise equipment (CPE) and point-to-point, point-to-multipoint links. WBD-111 is Firmware Factory compatible wireless networking platform and customers can have their own firmware images created in an online firmware factory. Rebrand and reconfigure your device's graphical user interface and configuration file, go online, load them on an online firmware factory mechanism and have your firmware built in a few minutes.
The WBD-111 is available for immediate shipment, so do not waste your time and be one of the first to try this new and exciting product.
###