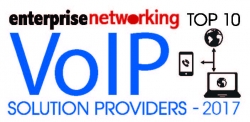 Gaffney, SC, March 03, 2017 --(
PR.com
)-- TotalBC has been recognized as one of the Top 10 VoIP Solution Providers of 2017 by Enterprise Networking Magazine.
A distinguished panel of experts, professionals, and technology leaders including board members of Enterprise Networking Magazine has decided and included TotalBC in the list of "Top 10 VoIP Solution Providers 2017."
"TotalBC offers Hosted VoIP Service in addition to traditional telephone service and helps clients achieve efficient and budget conscious solutions for their day to day business needs through quality products & service; with the highest customer service and qualified staff," said Lena Headey, Managing Editor of Enterprise Networking Magazine, "I congratulate TotalBC for achieving this recognition among the list of Top 10 VoIP Solution Providers."
TotalBC offers high-quality products and unsurpassed support from the area's most qualified IT techs. It provides comprehensive IT and voice solutions that fit the client's business needs. It also offers new installations, service and support for traditional telephone systems, VoIP Telephone Systems, Business Class Hosted VoIP "CallNet," Cloud Servers and Desktops "SuRest," Network Maintenance and Support, IP Camera systems as well as voice and data cabling.
About TotalBC
Founded in 2000, TotalBC, Inc. is a full-service telephone, voice, and data management company that specializes in telephone systems and network solutions. With over 4,000 business and industry clients nationwide, TotalBC provides provide the most efficient and friendly customer service. For more info, visit:
www.totalbc.com
Enterprise Networking —is a technology magazine that insights about the latest enterprise networking solutions in the industry. The magazine acts as an excellent platform for the high level executives, business leaders and professionals to share their opinions and challenges faced in the industry.