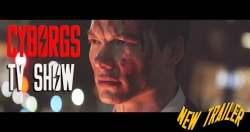 Los Angeles, CA, March 14, 2017 --(
PR.com
)--
CYBORGS
is ​a new science fiction series that also encompasses the genres of adventure, drama, and comedy. With the upcoming release of the show's trailer, people are encouraged to support the launch campaign by contributing and/or sharing it through their social media outlets.
Website: ​ ​
www.cyborgstvshow.com
Synopsis: ​In this modern era, the fear of technology replacing humans is one that is not so completely unfathomable. The story of ​Cyborgs​ begins with Dharsa Corp., a greedy and devious corporation that unleashes an artificially intelligent race of ​Human Clone Robots​ to the world. They remain in the service of humans until the year 2045 when they mysteriously begin to rebel. This rebellion quickly escalates into a global war that transforms our lush planet into a desolate, post-apocalyptic wasteland.
As humans become a minority amid a race of powerful robots, a group of scientists guided by "Doctor 00." develop a ​Cyborg Team​ which consists of 10 young humans who are enhanced with robotic technology. Each cyborg is equipped with a unique ability meant to aid the team as a unit in their fight against the rogue robots. Refusing to become slaves to Dharsa Corp.'s evil creations, robots, cyborgs and the few humans who remain, rise up together in an epic battle to save humanity.
Production:​
The series
will be produced using new and innovative techniques by a professional team of passionate independent filmmakers. Sci-fans and supporters can donate to the ​Kickstarter campaign ​and through the unique rewards offered, are given a chance to be a part of the complex narrative of every season of ​Cyborgs​.
The popularity of on-demand video along with the importance of audience feedback and the producer's interactiveness with that audience, has been the key to creating television shows for the viewer, by the viewer. Entertainment is no longer about studio pitches but rather what the people want, shared and brought alive through crowdfunding and social media. This gives a voice to the audience and catches the attention of studios who become aware of the profitable potentials of these projects. ​
Cyborgs​ is an example of this new phenomenon and how the voice of the people can be louder than the voice of the studios.
Though there are only a few days left on this fundraiser, supporters still have time to join the Cyborgs ​team and will be given the opportunity to change the way that television shows are produced. Just a small amount of time can make a big impact on this project.
More info:
www.cyborgstvshow.com