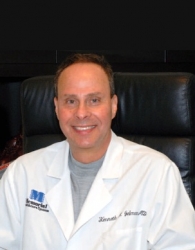 Cooper City, FL, April 01, 2017 --(
PR.com
)-- Kenneth M. Gelman, M.D. F.A.C.E. of Cooper City, Florida has been honored as a Professional of the Year for four consecutive years, 2014, 2015, 2016 and 2017 by Strathmore's Who's Who Worldwide Edition for his outstanding contributions and achievements in the field of healthcare.
About Kenneth M. Gelman, M.D. F.A.C.E.
Dr. Gelman is a physician at IVFMD, the South Florida Institute for Reproductive Medicine, which is a private practice providing patient care targeting infertility and reproductive endocrinology nationally. This practice includes treatment of all reproductive disorders in women and men, including offering advanced therapies such as Invitro Fertilization and Preimplantation Genetic Diagnosis. He has served as Chief of Medicine as well as Chief of Endocrinology at Memorial Regional Hospital in Hollywood, Florida. Dr. Gelman has been voted as one of the "Best Doctors" in Miami for three years in a row by "Miami Metro Magazine" and is a frequently sought after medical news expert by several television affiliates. In 2012, U.S. News and World Report Magazine voted Dr. Gelman as one of the top specialist in his field of Reproductive Medicine.
Dr. Gelman is a member of the A.O.A., a Fellow of the American College of Endocrinology and he is affiliated with: the American Society of Reproductive Medicine, the Association of Endocrinology, the Polycystic Ovarian Society of America, the American Society of Reproductive Immunology, the National PCOS Society, Resolve and the National American Menopause Society. He has written several articles for publications.
Dr. Gelman's practice stays on the cutting edge of treatments regarding all reproductive endocrinologic procedures as well as the area of women's menopause. He strives to provide personalized care to each and every patient or couple. His office is a state of the art facility including services from basic to advanced infertility therapies on site. With the availability of an on-site Embryology Laboratory as well as an Egg Retrieval Suite on the premises, Dr. Gelman can offer advanced therapies such as In Vitro Fertilization and Pre-implantation Genetic Diagnosis for all patients.
Born on November 19, 1954 in White Plains, New York, Dr. Gelman obtained a M.D., with Honors, Alpha Omega Alpha, from New York Medical College in 1982. He did his Residency at Albert Einstein College of Medicine and an Endocrinology Fellowship at Mount Sinai Hospital in New York. Dr. Gelman is accredited in the field of Gynecologic Ultrasound and First Trimester Obstetric Ultrasound by the American Society of Ultrasound in Medicine. He is married to Judi and they have one son, Michael. In his spare time Dr. Gelman enjoys family activities, physical fitness and playing music.
For further information, contact
www.ivfmd.com
.
About Strathmore's Who's Who Worldwide
Strathmore's Who's Who Worldwide highlights the professional lives of individuals from every significant field or industry including business, medicine, law, education, art, government and entertainment. Strathmore's Who's Who Worldwide is both an online and hard cover publication where we provide our members' current and pertinent business information. It is also a biographical information source for thousands of researchers, journalists, librarians and executive search firms throughout the world. Our goal is to ensure that our members receive all of the networking, exposure and recognition capabilities to potentially increase their business.