TadaWallets Announces Affordable Full Grain Leather Wallets for Women Spring Summer 2017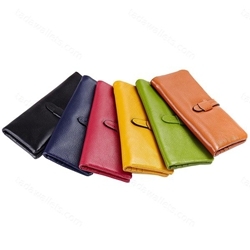 Guangzhou, China, March 30, 2017 --(
PR.com
)-- TadaWallets.com announces model AN-PL-0022 Full Grain Long Bi-Fold Strap Closure Wallets for Women in series Spring Summer 2017. Wallets are practically an appendage for women. TadaWallets.com understands women may taking a while when deciding which wallet to buy, based on their personal taste, needs, and the latest fashion trends they follow.
This new arrival wallet is good to consider if people desire fashion and accessorizing in affordable way.
These are long, bi-fold full-grain leather wallets that can fit cash notes, 12 cards, and one inner pocket (for spare cash or important receipts) wallets. They are the perfect combination of style and practicality for women of all ages, profession, and fashion preferences.
The strap closure allows for extra security. You can be sure that no loose bills or cards will slip off accidentally as the wallet stays snug and closed. Unlike magnetic enclosures, straps do not accidentally open up when jostled or dropped. This is built for maximum safety and organization of your cash and cards. It is perfect for casual use when paying bills or picking up groceries, but can also be appropriate for going out to have dinner with friends.
It might not be easy looking for that one perfect wallet. The good news is that you don't have to look too far to take a look at all the best choices.
The official website www.tadawallets.com has a wide selection of wallets for men and women, and they caters to all kinds of needs. Whether you need something practical or glamorous, this is your one-stop-shop for all wallet needs. Apart from wallets, Tadawallets also offer purses, clutches, and coin pouches. You can accessorize to your heart's content, without breaking your budget.
Contact
tadawallets.com
Dave Smith
008615607861284
https://www.tadawallets.com

Contact