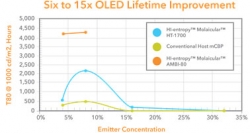 Rochester, NY, April 06, 2017 --(
PR.com
)-- Molecular Glasses, Inc. has filed for patent protection for its OLED Devices with Improved Lifetime Using Non-Crystallizable Molecular Glass Mixture Hosts. The filing expands Molecular Glasses existing patent portfolio and converts prior provisional applications into a single full US patent filing. The new patent filing covers OLED devices incorporating Molecular Glasses HIentropy™ hosts. Their proprietary hosts disperse dopant molecules uniformly at very high concentrations, reduce chemical degradation and extend device lifetime by 6 to 15x.
"We expect this technology to significantly impact the industry by enabling stable and high efficiency blue OLEDs," notes Mike Molaire, CEO and Founder of Molecular Glasses. "Our materials will help increase cell phone, tablet, and PC battery life while enhancing display resolution."
Molecular Glasses has invented a new class of HIentropy™ NONcrystallizable™ OLED materials that merge the best attributes of the existing technologies into one material set that can be used in existing and emerging manufacturing processes.
About Molecular Glasses, Inc.
Molecular Glasses, Inc. is a supplier of patent pending materials to Original Equipment Manufacturers (OEMs) of Organic Light Emitting Diodes (OLED) for use in displays (cell phones and tablets for example, and specialty lighting. These materials will enable OEMs to produce OLEDs with longer device life, higher light output, lower power consumption, and reduced manufacturing costs. This new class of materials is fully compatible with both the current thermal/vacuum deposition manufacturing processes and the emerging printing manufacturing processes (ink-jet, roll-to-roll, etc.). Molecular Glasses will derive revenue both from the licensing of patents and the sale of materials. www.molecularglasses.com
Molecular Glasses™, NONcrystallizable™, Molaicular™, Molaicular Inside™, ISOmeric™, HIentropy™, SurfaceJET™ are trademarks of Molecular Glasses, Inc.