Canvas Stretching Machine, LLC Announces "Free" Ground Shipping Through December
Canvas Stretching Machine announced free ground shipping on all 4 models of their Gallery Stretcher. This offer is available starting at 8 a.m. EST today. This offer runs until midnight on the last day of December.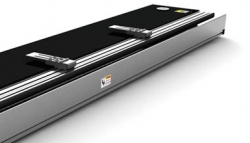 Reynoldsburg, OH, April 08, 2017 --(
PR.com
)-- Canvas Stretching Machine, LLC. is the sole source and manufacturer of the Gallery Stretcher, a fully pneumatic canvas stretching machine that can produce tight uniform stretches in about 2 minutes. The Gallery Stretcher is made entirely in the USA. Canvas Stretching Machine, LLC has been building and selling machines exclusively online since 2008 worldwide.
The Gallery Stretcher is for artists, photographers, custom frame shops and high-production print shops. The unique bench mounted design provides the operator with a relatively seamless work surface to rotate the art. All of the stapling is done from the front and the folds can be made in-place.
To take advantage of this Free Shipping option you must type "shipitfree" in the coupon code area. This offer is only applicable for the GS-36, GS-60, ProMod-5 & ProMod-8. This coupon code will not work on any accessories and will expire on the last day of December.
If you currently own one of their machines and it is over 5 years old you might consider their "rebuild program."
Contact
Canvas Stretching Machine, LLC
David Weaver
614-861-4582
www.gallerystretcher.com

Contact