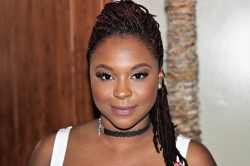 Stafford, TX, April 11, 2017 --(
PR.com
)-- Nzuri Hair Care and Wellness is pleased to announce that it has partnered with Actress, Television Personality and Producer Torrei Hart to produce a product line designed to promote healthy skin and natural hair growth called Heavenly Hart by Nzuri. The name for the line was inspired by Hart's daughter, Heaven, and is scheduled to launch July 4, 2017.
"Partnering with Nzuri is an amazing opportunity," said Hart. "They make wonderful products for women with natural hair, all while providing education on how to maintain their gorgeous manes. This partnership is made even more meaningful because it is inspired by my beautiful daughter."
What makes the Heavenly Hart products special? They are not only designed to assist in hair growth, they are designed to make you feel good about your hair growth journey and your body. Each product is made to create healthier, stronger and more manageable hair without the use of chemicals that strip and damage hair texture and curl patterns. Products included in the line will include: the Heavenly Hydration Shampoo and Conditioner, 12-in-1 Leave-in Conditioner, Heavenly Hair Moisturizing Milk, Heavenly Locs and Braids Medicated Spray, Heavenly Hair Growth Stimulating Oil Sheen and the Heavenly Hair Restoration Masque. All products are sulfate and paraben free. These products will make you feel heavenly and the results will touch your hart.
"We are very happy to welcome Torrei to the Nzuri family," said CEO and Founder Leola Anifowoshe. "Torrei's belief in overall health and beautiful natural hair makes her a perfect match for our organization and we are excited to embark on this journey with her."
The deal was orchestrated by entrepreneur and brand architect Clarence KD McNair,Jr.
Nzuri Hair care founder and CEO, Trichologist Leola Anifowoshe developed the Nzuri product line in her quest to educate to women of color about healthy hair, hair loss and how to properly use the right products to maximize healthy hair growth.
For more information on Nzuri, visit their website:
https://www.hairvitaminstore.com/
Media Contact:
Brandi Hunter
E:
Brandi@mediahunterpr.net
P: 917-679-9766