John Samuel-Jebaraj David Has Recently Been Recognized by Strathmore's Who's Who
John Samuel-Jebaraj David, of Skokie, Illinois, has recently been recognized as a member of the Strathmore's Who's Who Lifetime VIP Club for his outstanding contributions and achievements in the field of Consulting.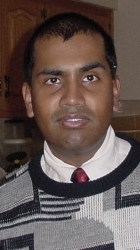 Skokie, IL, May 24, 2017 --(
PR.com
)-- About John Samuel-Jebaraj David
John Samuel-Jebaraj David serves as an Accountant and Independent Agent responsible for recruiting, training, troubleshooting, reconciliations, sales, distribution, and software consulting. Mr. David was born on January 31, 1975 in Vellore, Tamil Nadu, India. He earned his B.A. in Mathematics from Trinity International University in 1998 and received an Advanced Computer Science Certificate from Wilbur Wright College in 2002. In addition to his recognition as a Lifetime VIP member in Strathmore's Who's Who, Mr. David is an America's Registry of Outstanding Professionals Lifetime Featured Member. In his leisure time, Mr. David enjoys decoding and deciphering the Bible.
About Strathmore's Who's Who
Strathmore's Who's Who publishes an annual two thousand page hard cover biographical registry, honoring successful individuals in the fields of Business, the Arts and Sciences, Law, Engineering and Government. Based on one's position and lifetime of accomplishments, we honor professional men and women in all academic areas and professions. Inclusion is limited to individuals who have demonstrated leadership and achievement in their occupation, industry or profession.
Contact
Strathmore Who's Who
Ann Marie Barone
516-997-2525
www.strathmore-ltd.com

Contact