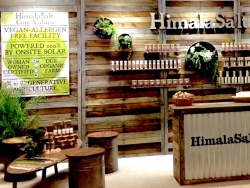 Sheffield, MA, April 16, 2017 --(
PR.com
)-- Owner Melissa Kushi, not one to waste, and certainly not one to overlook the gorgeous grains hiding behind the dirt on pallets that regularly arrive on her Himalayan salt containers - pallets are made from scraps of mahogany, teak, cherry and other exotic hardwoods, she had discovered a mountain of treasure in a massive and growing stack of pallets at her warehouse.
Located in the Berkshire Mountains, 2.5 hour north of NYC, and 2.5 hours west of Boston, her HimalaSalt facility is also located on a 6 acre organic farm, where her staff receives free farm shares grown from Non-GMO heirloom seed.
From design and planning to execution, her pallet trade show booth was built in-house by talented staff, and received loads of love, oohs and aaahs at the recently held Natural Product Expo West industry show in Anaheim, CA in March.
Kushi, who is quality obsessed, has worked diligently to create the lowest footprint possible at her facility. Certified Organic, Non-GMO, Gluten-Free, and Kosher for Passover Year Round, and powered 100% by onsite solar, is changing the way food is made. She believes "food producers have a deep responsibility - to their customers and also to the planet. Conscious business and ethical consumerism combined is a shared form of global activism."
Find out more at 413-528-5141 or www.HimalaSalt.com