Cabot Barden Author Releases His Eighth Book
Cabot Barden, author and songwriter, has published his eighth fiction, called Muscogee Red Dawn. The story of the family of Jim Fife, the next generation. Jim Fife, who was an Indian war hero of the Creek Indian War, has died. At his funeral his son finds out that some of their relatives in Oklahoma are in a life and death situation. So LIttle Jim, along with some family and friends, head out for Oklahoma to rescue them. Follow their exploits on this rescue mission.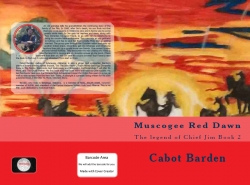 Talladega, AL, April 17, 2017 --(
PR.com
)-- Cabot Barden publishes his eighth book, Muscogee Red Dawn. The second sequel to the book I Will War No More. A fiction-based on the hero of the Creek Indian War, Selocta Chinnabee. The first sequel is The Ghost Walker, the story of Jim Fife Sr. Available from amazon.com and ekindle.
An old grandpa tells his grandchildren the continuing story of the family of Jim Fife. In 1869, after Jim's death, his son finds out that there are some cousins in Oklahoma who are in harms way by some greedy white men. So Jim gets his nephew and niece, along with Tom Oshanter, his good friend, to go with him to Oklahoma to bring his cousins back to Alabama. Tom runs into an old girlfriend in Cullman and has to save her from a bully. They end up getting married. The group goes through the Choctaw nation and picks up another Indian brave. Once they get into Arkansas and Oklahoma territory they pick up a couple more new friends. One named Quigley and one named Holliday. They encounter the very villains who want to take the land Jim's cousins are on. Gunplay ensues at one point. Chaos is imminent from then on. Doc Holliday meets Wyatt Earp for the first time, in Kansas. Will Jim save his cousins in time? You'll have to read the book to find out. A rollicking adventure from start to finish.
Contact
Cabot Barden author
Cabot Barden
256 223 1478
cabotbardenauthor.com

Contact