Morris 4x4 Center Announces First-Ever Spring Catalog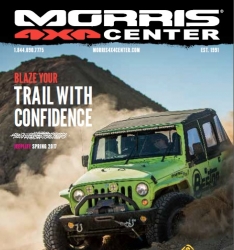 Pompano Beach, FL, April 18, 2017 --(
PR.com
)-- For the first time ever, Morris 4x4 Center is issuing to its customers a Spring Catalog featuring new and popular Jeep parts and accessories. Dropping in Mid-April, local South Florida recipients can also expect to see colorful and informative editorials based on the Jeep's storied past. Not to worry - in the weeks following, catalogs will be shipped with orders made online.
When asked about the first-ever release of the catalog, Morris 4x4 CEO Ken Mowry stated, "One of our top customer requests is whether can we send them a catalog. Much like the new website features are geared toward meeting customer needs and sharing our Jeep expertise, the catalog was a natural extension of our customer touch points. It is designed to meet the needs of our varied customer base." The new publication is another component of Morris 4x4 Center's retooling initiative to enhance the driving experience of outdoor and 4x4 enthusiasts.
Leveraging its two most important assets, the company developed the catalog in large part by asking the opinions of its resident Jeep aficionados; several parts featured within the publication reside on their wish lists. Customer data collected over the last decade also helped to inform which parts made the final cut.
A successful Spring catalog launch will likely result in later editions, even as soon as fall. In the meantime, attendants of Morris' Third Annual Jeep Event will be receiving the catalog as well. Shortly after the first distribution of the catalog, customers will be able to request one, and even view it online.
About Morris 4×4 Center
Morris 4×4 Center
is a leading e-commerce destination for Jeep and 4x4 enthusiasts looking to outfit and enhance their driving experience. It provides more than 40,000 products across top brands, with passionate experts and a commitment to great customer experience. With more than 1 million orders shipped worldwide and over 300,000 followers combined on Facebook, Twitter, and Instagram, Morris 4x4 Center puts the customer's needs in front of every new initiative. Located in Pompano Beach, FL, locals can find thousands of replacement and aftermarket Jeep parts.
For more information please contact the Morris 4×4 Center headquarters in Pompano Beach, FL at (954) 941-7807.
Contact
Morris 4x4 Center
Joe Torraca
954-941-7807
www.morris4x4center.com/

Contact