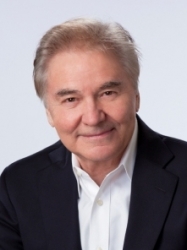 Leesburg, VA, May 09, 2017 --(
PR.com
)-- Charles H. Helein, JD of Leesburg, Virginia has been recognized as a Professional Of The Year for 2017 by Strathmore's Who's Who Worldwide for his outstanding contributions and achievements in the field of law.
About Mr. Helein, JD
Mr. Helein, JD has over 54-years experience in the legal field. He is the Owner and an Attorney at The Helein Law Firm PC, which provides legal services in Virginia and Washington, D.C. He practices administrative law targeting regulatory telecommunications, IRS tax, general corporate law, family businesses and small business law. Mr. Helein has received 6 American Jurisprudence Prizes in Corporate Law, Corporate Finance, Family Law, Legal Remedies, Procedure and Future Interests. He received the Missouri Bar Senior Counselor Award. He is affiliated with Alpha Sigma Nu, the Order of the Woolsack, the District of Columbia Bar, The Missouri Bar, and the Virginia State Bar.
Born in Saint Louis, Missouri, Mr. Helein obtained a B.S., With Honors, in Philosophy, from St. Louis University in 1961 and a J.D., Cum Laude, from St. Louis University Law School in 1963. He began his career as Assistant Counsel to the United States Senate Subcommittee on Administrative Practice and Procedure of the Senate Judiciary Committee being appointed to that position from the top law school graduates in the State of Missouri for 1963 by then Senator Edward V. Long (D. Mo.). After a short stint with the Law Offices of Cornelius B. Kennedy, former counsel to Senator Everett M. Dirksen, (R. IL) then Minority Leader in the U.S. Senate, he joined Dow, Lohnes & Albertson, from 1967 through 1990. From 1990 through 1991 he served with Arter & Hadden, both of Washington, DC. He was a Partner with Galland, Kharash, Morse & Garfinkle from 1991 through 1993. From 1993 through 2007, Mr. Helein served with The Helein Law Group, P.C. He was a Senior Partner with Helein & Marashlian from 2007 through 2011 and served as Co-Founder and General Counsel with America's Carriers Telecommunications Association from 1985 through 1998. Mr. Helein served as an Adjunct Professor of Law with American University Washington College of Law in 2012.
Mr. Helein is the author of numerous novels including "No Escape- A Maze of Greed and Murder," ISBN: 978-1625169983, "Seeds of Anarchy: Harvest of Indifference," ISBN: 978-1530975846, and "Dark Corridors: A Labyrinth of Lies, Loss, Lust, and Murder," ISBN: 978-1523302031. This information can be found on www.hhcharles.com.
Mr. Helein is married to Kathleen and they have seven children. In his spare time he enjoys family activities, physical fitness and crossword puzzles.
"I am not defined by what others think I should do, but by doing what needs to be done." - Charles H. Helein
For further information, contact
www.theheleinlawfirm.com
.
About Strathmore's Who's Who Worldwide
Strathmore's Who's Who Worldwide highlights the professional lives of individuals from every significant field or industry including business, medicine, law, education, art, government and entertainment. Strathmore's Who's Who Worldwide is both an online and hard cover publication where we provide our members' current and pertinent business information. It is also a biographical information source for thousands of researchers, journalists, librarians and executive search firms throughout the world. Our goal is to ensure that our members receive all of the networking, exposure and recognition capabilities to potentially increase their business.