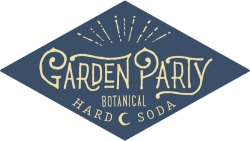 Indianapolis, IN, April 27, 2017 --(
PR.com
)-- DrinkGP, LLC today announced two new distribution agreements with Anheuser-Busch Distributors in Northern Indiana. Beginning this week, the Indianapolis-based company's award-winning, all-natural Garden Party Botanical Hard Soda is available in an additional 16 counties in Northwestern and Northeastern Indiana.
Garden Party's two initial flavors, Violet and Ruby will be distributed in the Ft. Wayne regional market through AALCO Distributing, and by Hammond-based Calumet Beverage servicing the Northwest Indiana regional market. The expanded distribution extends the footprint of the Garden Party Hard Soda brand to over 90 percent of Indiana in less than six months after launching last November.
"We're very excited to partner with two established and respected distributors in Northern Indiana to give Hoosiers from Evansville to Ft Wayne the opportunity to purchase an innovative Indiana product," says Erin Edds, Garden Party Founder and CEO. "We're looking forward to sharing our story of introducing a craft element to the flavored malt beverage category and introducing Garden Party to the people of Northern Indiana."
The new distribution agreements continue the strong momentum for Garden Party since Edds announced almost a year ago plans to create and release a premium hard soda with botanical flavors and less sugar. At that time, the company had secured an unprecedented distribution agreement with Monarch Beverage months before the hard soda went into production.
Since their launch, Garden Party became the first Indiana beverage brand and first woman-owned brand in the country to win the coveted Beverage Industry Magazine Innovation of the Year. Recently, the brand earned national recognition celebrating the elevation of the wine cooler to an artisan beverage in an article in the print edition of Bloomberg Businessweek.
"Garden Party has introduced premiumization to the flavored malt beverage category, and the enthusiastic response to Violet and Ruby from consumers and the beverage industry both locally and nationally tells us that we are leading the next phase of this rapidly growing adult beverage market," Edds added. "Our business model allows us to target consumers both inside and outside of Indiana and this is the next step in our long-term plans to scale the brand regionally and nationally."
Currently Garden Party Botanical Hard Soda is available in over 150 retail, restaurant and bars in Central and Southern Indiana, including select stores: Super Target, Fresh Thyme, Whole Foods and all locations of Big Red Liquors. Garden Party is carried in bars, restaurants, and grocery stores where premium adult beverages are sold. Additional distribution outside of Indiana will be announced soon.
About DrinkGP, LLC
Garden Party Botanical Hard Soda is a dba of DrinkGP, LLC in Indianapolis. DrinkGP is a woman-owned business (certification pending) founded in 2016 by respected and award-winning beverage entrepreneur Erin Edds and Stephen Edds. DrinkGP is committed to creating premium adult beverages using the highest quality ingredients and the brand has already earned national recognition and awards for its innovation in the adult beverage industry.
For more information, visit our Addy-award winning website at www.drinkgp.com