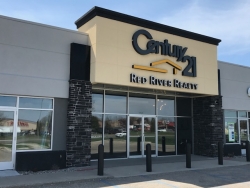 Grand Forks, ND, May 09, 2017 --(
PR.com
)-- Affinity GOLD is a no cost partner program designed to be used as an employee/member benefit for larger community employers, credit unions, banks and local heroes such as Teachers, Firefighters, Police Officers, Nurses, Doctors, Paramedics and many more.
The Affinity GOLD program offers many benefits including Cash Bonuses of up to $2500.00 when buying or selling real estate. CENTURY 21 Red River Realty and its expert affiliated agents will play an integral part in the Affinity GOLD program, helping the individual and their family members, if applicable, better understand the program and benefits, help with every aspect of the purchase or sale of their home. If they are new to the area, tour their new community from schools to recreation to entertainment and educate them every step of the way, including on our real estate market itself.
"One of the many reasons we affiliated with the CENTURY 21® System is the industry-leading international presence of the brand," said Michael Marcotte Broker/Co-Owner of CENTURY21 Red River Realty. "Our goal is to help Local Heros and top employers in our region with an employee/member benefit plan for buying and selling homes. The Affinity GOLD program offers many benefits to the local heroes/employees and members such as Cash Bonuses at closing, Best-of-the-Best trained real estate agents, free use of a moving trailer and much, much more and in doing so, build lifelong relationships with them."
If you are interested in more information on joining the Affinity GOLD partner progam (individual program available to local heroes) please contact Michael Marcotte Broker / Program Coordinator, 701-746-0303
Like all independently owned and operated firms in the CENTURY 21 Franchise System, CENTURY 21 Red River Realty shares the market power, vast global presence, and referral network of the iconic brand. The CENTURY 21® System provides brand marks, marketing, communications and innovative technology solutions that help enable its franchisees and their independent sales associates to attract and engage prospects, nurture customers, and deliver a positive real estate transaction experience.
About CENTURY 21 Red River Realty
They are the fastest growing Great North Region's independently owned and operated franchise affiliate of CENTURY 21 Real Estate LLC (century21.com), franchisor of the iconic CENTURY 21® brand. Century 21 Real Estate LLC is comprised of approximately 7,330 independently owned and operated franchised broker offices in 77 countries and territories worldwide with more than 110,000 independent sales professionals.