Bittele Electronics Exhibited at EPTECH 2017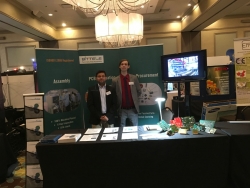 San Jose, CA, May 10, 2017 --(
PR.com
)-- Bittele Electronics is pleased to announce that it exhibited at EPTECH 2017 in Montreal on April 25 and Markham on April 27, 2017. Sponsored by EP&T, Canada's largest professional electronics trade publication, EPTECH 2017 targets electronics designers, research and developers, engineers, technologists, purchasers and technical managers. EPTECH is the only series of coast-to-coast national electronics trade shows in Canada.
Bittele Electronics is one of North America's leading PCB assembly service providers that specializes in prototype and low-volume electronics manufacturing. Since 2003, Bittele Electronics has offered
PCB manufacturing and assembly
services to clients in the aerospace, military, medical, and commercial industries, ranging from simple prototypes to complex designs and large-scale production PCBs.
At the EPTECH 2017 exhibition, Bittele Electronics took the opportunity to provide technical consultations focusing on its Design-for-Manufacturing (DFM), PCB fabrication and assembly. Bittele's DFM service is a key way for electronic design engineers, product developers and OEMs to circumvent engineering problems that may impede the PCB manufacturing process.
DFM functions as a pre-production quality check by conducting a review of the client's engineering documents such as Gerber files, assembly drawings, and circuit diagrams. In addition, DFM includes an inspection of the BOM to verify its correctness. Solder mask suggestions are also offered to ensure high yield rates. The DFM service is one of the primary ways Bittele Electronics passes on attractive cost reductions to its customers.
Through DFM, which is part of its low volume circuit board assembly service, Bittele Electronics helps meeting the PCB fabrication and assembly needs of its clients, from initial technical advice through customized product development. Bittele strives to assist its clients in achieving their maximum productivity goals by offering a lower total cost in PCB production. Bittele Electronics is DOD Contracts Ready, MIL-PRF-31032, MIL-PRF-55110G, AS9100C, and ISO 9001:2008 Certified; IPC 6012 Class 2, 3 and 3A Qualified; and ITAR Registered.
For more information about DFM, PCB fabrication and assembly, visit
http://www.7pcb.com
Contact
Bittele Electronics Inc
Ege Bor
416-800-7540
www.7pcb.com

Contact