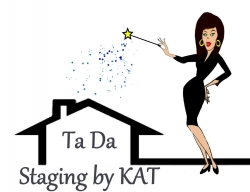 Houston, TX, May 16, 2017 --(
PR.com
)-- Over 40 Million Monthly Unique Users Nominated Best Home Building,
Remodeling and Design Professionals in North America and Around the World
Ta DAaStaging by KAT of The Woodlands has won "Best Of Design, & Customer Service, on Houzz®, the leading platform for home remodeling and design. The Premier staging company of Houston for Montgomery & Harris counties is raising the bar for professional home staging. The 8 year established Staging Company was chosen by the more than 40 million monthly unique users that comprise the Houzz community from among more than one million active home building, remodeling and design industry professionals.
The Best Of Houzz is awarded annually in three categories: Design, Customer Service and Photography. Design award winners' work was the most popular among the more than 40 million monthly users on Houzz. Customer Service honors are based on several factors, including the number and quality of client reviews a professional received in 2016. Architecture and interior design photographers whose images were most popular are recognized with the Photography award. A "Best Of Houzz 2017" badge will appear on winners' profiles, as a sign of their commitment to excellence. These badges help homeowners identify popular and top-rated home professionals in every metro area on Houzz.
"If we don't 'wow' our clients we have failed. Failure is not an option," says KAT owner and lead stager for TA DA Staging.
"We're so pleased to award Best of Houzz 2017 to this incredible group of talented and customer-focused professionals, including TA DA Staging by KAT," said Liza Hausman, vice president of Industry Marketing for Houzz. "Each of these businesses was singled out for recognition by our community of homeowners and design enthusiasts for helping to turn their home improvement dreams into reality."
Follow Ta Da Staging by KAT on Houzz and
www.TaDabykat.com
About Ta Da Staging by KAT
KAT Troulinos is the founder and lead designer for Ta Da Staging by KAT.
Having worked for over a decade with award winning builders in the greater Houston area as a Close out specialist in sales; design selection; and as the in house showcase staging professional in over 15 high end communities, KAT has gained an in-depth understanding on how to strategically market not only the space but to the lifestyles they represent to get amazing results.
Staging & marketing go hand in hand for KAT and she takes pride in making sure that every unique property is optimally staged and receives maximum exposure through her varied channels, including but not limited to, being posted on Stagehomes.com which receives over 7 million hits per month.
"At Ta Da Staging by KAT each of our stagers are trained and accredited as ASP certified as Accredited Staging Professionals," says KAT. It is important to her that all team members are accredited and continue their education to assure optimal results for their clients. "We work together in transforming each unique property into a space that creates the largest potential audience of buyers." KAT personally orchestrates each design through hand selected pieces of furniture, artwork, lighting, area rugs & accessories that will optimally enhance each unique property taking into consideration price point, demographics and style of the property. "The planning and design phase is carefully structured to showcase the best features of the property as well as minimize any challenging floor plans through strategic furniture placement to achieve the best flow and feeling for each area and the space in it's entirety. If we need a certain piece to complete a cohesive look and it is not in our warehouse, we will purchase it! If we don't 'wow' you we're not meeting our goals," says KAT.
KAT says her company strategically markets not only the space but to the lifestyles they represent. Whether serving homeowners, realtor partners, investors or home builders the ultimate focus for Ta Da Staging is to help their clients sell their property in the least amount of time for the most amount of money. Ta Da Staging's "Magical Transformations" WOW ME package seems to be getting that done all over Houston.
About Houzz
Houzz is the leading platform for home remodeling and design, providing people with everything they need to improve their homes from start to finish – online or from a mobile device. From decorating a small room to building a custom home and everything in between, Houzz connects millions of homeowners, home design enthusiasts and home improvement professionals across the country and around the world. With the largest residential design database in the world and a vibrant community empowered by technology, Houzz is the easiest way for people to find inspiration, get advice, buy products and hire the professionals they need to help turn their ideas into reality. Headquartered in Palo Alto, CA, Houzz also has international offices in London, Berlin, Sydney, Moscow and Tokyo. Houzz and the Houzz logo are registered trademarks of Houzz Inc. worldwide. For more information, visit Houzz's website.