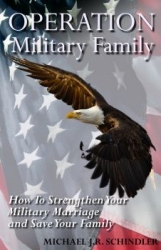 Edmonds, WA, February 10, 2008 --(
PR.com
)-- Every day the media showcases how veteran stress cases are up or how deployments are ripping families apart; Operation Military Family highlights the "rest of the story."
Operation Military Family: How to Strengthen Your Military Marriage and Save Your Family, (192 pp., $19.95 available via website or bookstores worldwide), written by military veteran Michael Schindler, highlights successful families and many of the key resources and programs the government makes available to families in an effort to strengthen military marriages.
The book follows several activated Reserve and Guard families from pre-deployment through the families' reunification and how they dealt with the emotions, the issues surrounding finances and children as well as several other circumstances brought on by deployment. It also follows these couples back to their reunion and reunification…and what each family did to get reacquainted.
The book includes the latest government research and studies on military marriages and highlights how families are taking action and what the government and the military are doing to strengthen military marriages and save the military family.
Four Star General Tommy Franks (Ret), former Commander-in-Chief U.S. Central Command says of Schindler's work: "Freedom is not free…and no one knows it better than military men and women and their families. Mike Schindler does a great job of giving practical, "how to" pointers to help them strengthen their marriages. A great resource!"
For additional information on Operation Military Family, visit www.operationmilitaryfamily.org or contact Mike Schindler at mschindler@operationmilitaryfamily.org. To arrange a book signing, speaking engagement or interview, contact Mike Schindler at 206-795-5890.
Mike Schindler is an author, speaker, military advocate and founder of Operation Military Family, an organization committed to developing road maps and tools to strengthen relationships while revealing the many available government resources.
Book ISBN 10: 1-890427-86-1 Book ISBN 13: 978-1-890427-86-3
###