Spartanburg Marriott Receives ELITE Award from Marriott International - Named Property Sales Team of the Year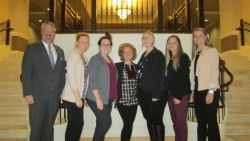 Cincinnati, OH, May 16, 2017 --(
PR.com
)-- Winegardner & Hammons Hotel Group, LLC is proud to announce that the Spartanburg Marriott Hotel, Spartanburg, SC has been awarded the 2016 Property Sales Team of the Year for Franchise hotels.
This prestigious honor is one of the ELITE awards presented annually by Marriott International to celebrate the best leaders and teams in Sales, Revenue Management, Marketing and eCommerce globally for all brands. ELITE is the acronym for Excellence + Leadership + Inspiration + Teamwork + Execution.
The Spartanburg sales team is led by David Sundermann, the hotel's general manager. The team was selected for the award based on their leadership skills, outstanding revenue results, superior customer service, and community involvement. Additionally, the Spartanburg Marriott Catering team was nominated and was a finalist for Catering Sales Excellence Team. David Sundermann was also nominated and a finalist for Franchise Property Sales Leader.
"I am very proud of our sales team and the dedication they have to our customers, the guests and our Spartanburg community," said David Sundermann. "We are all very excited to be recognized as a sales team leader within Marriott International."
The Spartanburg Marriott is the largest hotel conference center in the Upstate with more than 30,000 square feet of flexible meeting space. For more information on the hotel, visit
www.marriott.com/spamc
or contact the award-winning sales team at 864-596-1211.
About Spartanburg Marriott
The Spartanburg Marriott is owned by the Southern Hospitality Group of Greer, SC and managed by Winegardner & Hammons Hotel Group, LLC. The 247 room hotel is located in downtown Spartanburg, at 299 North Church Street. In addition to the concierge level multiple suites, there are a variety of on-site dining and entertainment options including Sparks Fire-Inspired Grill, Mesh bar and lounge and The Terrace, a popular outdoor gathering spot. The hotel is also a recipient of the Gallup Great Workplace Award.
About Winegardner & Hammons Hotel Group, LLC
Winegardner & Hammons Hotel Group, LLC (
whhotelgroup.com
) established in 1958, is a privately-owned full-service hotel company based in Cincinnati, Ohio. The company delivers superior results to owners by providing outstanding property management, asset management, project management, acquisition services and lender/receiver services. Winegardner & Hammons manages hotels throughout the United States, from independent to major brand affiliated hotels. WHG is a 16 year recipient of the Marriott Partnership Circle Award, a member of the Marriott Partnership Hall of Fame and is the only hospitality company as an 11 year consecutive recipient of the Gallup Great Workplace Award. Winegardner & Hammons Hotel Group, LLC is an affiliate of Pyramid Hotel Group.
Spartanburg Marriott Team: Pictured Left to right, David Sundermann, Michelle Mathis, Tiffany Ford, Crystal Pace, Lindsay Harris, Jessica Dase, Rachel Wile.
Contact
Winegardner & Hammons Hotel Group, LLC
Cindy Swift
513-794-2419
whhotelgroup.com
David Sundermann
General Manager
David.Sundermann@marriott.com
864-596-1100

Contact