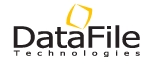 Kansas City, MO, May 18, 2017 --(
PR.com
)-- DataFile Technologies, a leader in health information management (HIM) solutions, announced today that it has received national certification from the Women's Business Development Center - Chicago, a Women's Business Enterprise Council (WBENC) Regional Partner Organization.
Janine Akers purchased DataFile Technologies in 2005, which included only the company name and four customers. From those humble beginnings, DataFile quickly outgrew the initial service model and leveraged emerging technology to build an innovative approach to the most common HIM challenges. Akers has led the organization through rapid growth over the last 12 years, offering solutions such as fulfillment of medical records requests, document management and routing, and scanning for electronic health record system conversions to healthcare organizations of all types and sizes. DataFile works with HIM departments and leaders across the country to improve operational efficiencies that can assist in achieving metrics for new reimbursement requirements as well as supporting patient satisfaction initiatives.
"We are excited to be officially certified as a Women's Business Enterprise. We want to continue to grow our team of healthcare data experts while expanding our footprint in the health IT industry," said Akers, CEO of DataFile Technologies. "The WBE certification will give us not only new opportunities for growth, but the ability to network with and learn from other woman-owned organizations across the country."
The WBE certification for women-owned businesses certifies that a company is at least 51% woman/women owned and controlled. It is the most rigorous and sought after certification of its kind. Companies and government agencies that include women-owned businesses as their vendors show their commitment to fostering diversity, which the WBENC believes sparks innovation and creates partnerships and opportunities that fuel the economy.
About DataFile Technologies
DataFile Technologies, headquartered in Kansas City, Mo., provides turn-key solutions to streamline, standardize and centralize health information management and clinical workflows for healthcare organizations of all types and sizes. For more information, please visit www.DataFileTechnologies.com.