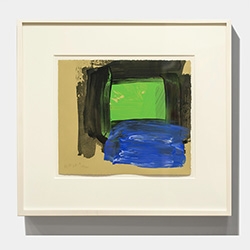 Los Angeles, CA, May 23, 2017 --(
PR.com
)-- Jonathan Novak Contemporary Art gallery is pleased to present "After All," the last body of editioned graphic works by acclaimed abstract artist
Howard Hodgkin
. Howard Hodgkin (1932–2017) is considered one of Britain's greatest artists and a central figure in contemporary art for over half a century. The collection of hand-painted editioned works in "After All" pays tribute to Hodgkin's personal and autobiographical fragments of memory and life experiences. Hodgkin's works are distinguished by dense layers of expressive brush strokes, richly saturated colors, and emotive shapes.
"After All" has been likened to a series of Haiku poems. Each work speaks to a particular time and place, using the language of color, gesture, and form. In these poetic objects of thought, "Outspoken," "Springtime," "Late Autumn," "Coast," "Raspberry Crumble," "Dark Rainbow," "Surprise Surprise," "Absolutely," and "A Pale Reflection," Hodgkin reminds us of the impact of these simple human experiences from a trip to the seaside to indulging in a favorite pastry. The series reflects Hodgkin's boldness and intensity, mastery of scale, and willingness to display raw emotion.
Hodgkin created each prototype within the "After All" series by a process of hand-painting and printing, a method of sugar-lift aquatint or carborundum relief, and painting. Because of the care taken in the process, no two works are exactly the same. All share the passionate, emotive core of Hodgkin's natural expression and are a tribute to life itself.
Jonathan Novak Contemporary Art, a long-standing gallery in Southern California, is an important source for Post-War and Contemporary American and European art. The gallery is located in the heart of Century City, adjacent to Beverly Hills and the west side of Los Angeles. The gallery's extensive inventory includes paintings, drawings, sculpture, and prints by acclaimed artists from significant Post-War movements including Abstract Expressionism, Color Field, Minimalism, Pop Art, and Photorealism.
Jonathan Novak has been an exhibitor at international art fairs in New York, Chicago, Los Angeles, Miami, San Francisco, Palm Beach, Palm Springs, Southampton, and Aspen. He is a member of the Fine Art Dealers Association (FADA), The International Fine Print Dealers of America (IFPDA), and the Private Art Dealers of America (PADA).