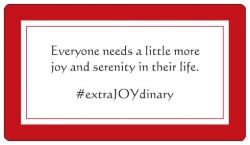 Little Rock, AR, May 24, 2017 --(
PR.com
)-- Have you ever wished for an easy-to-follow recipe for a more joyful and serene life? Well, now you can have it.
Tullisian Books is pleased to announce the publication of "ExtraJOYdinary: creating your serene life" written by The ExtraJOYdinary Writers Group. It is a concise, easy-to-follow, step-by-step guide to help everyone live a more serene life. Of course, like any recipe, you must provide the ingredients and do all the work. The result, though, will be a beautiful and delicious life.
"ExtraJOYdinary: creating your serene life" is available in English, Spanish, French, Italian, German, and Portuguese hardcover editions. Each edition is also available as an eBook.
The companion workbook, "my life is ExtraJOYdinary: The Workbook" is available in a multilingual softcover edition.
This book is available worldwide at your local bookstore and through online booksellers.
www.extraJOYdinary.com