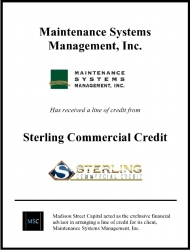 Chicago, IL, May 23, 2017 --(
PR.com
)-- International investment banking firm Madison Street Capital (MSC) acted as the exclusive financial advisor in arranging a line of credit for its client, Maintenance Systems Management, Inc. (MSM). The facility was provided by Sterling Commercial Credit. The transaction was announced today by Madison Street Capital CEO, Charles Botchway. Terms of the deal were not disclosed.
"It was a real pleasure working with Rick Davis of MSM. This facility allows MSM to take advantage of growth opportunities in their marketplace and we are glad we were able to help make it happen," said Charles Botchway.
"Madison Street Capital, under the direction of Charles Botchway, provided my company with the capitalization help I needed and requested. They were able to facilitate my needs by offering a timely solution as well as providing me with advice to strengthen my company's financial future. I look forward to working with Madison Street Capital again in the future," added Rick Davis.
About Maintenance Systems Management, Inc.
Maintenance Systems Management is one of the Bay Area's leading providers of contract custodial, janitorial and maintenance services. Founded in 1990 and headquartered in San Francisco, CA, Maintenance Systems Management has a strong regional presence and is setting new standards in the maintenance services and commercial cleaning industry. For additional information visit www.
msm-inc.com
About Sterling Commercial Credit
Sterling Commercial Credit is a family owned and operated financial service provider specializing in short term commercial lending. At Sterling our mission is to engineer creative working capital solutions for growth minded Entrepreneurs,' which allows them to follow their dream with an industry leading, transparent commercial lending partner. Please visit our website at
www.sterlingcommercialcredit.com
About Madison Street Capital
Madison Street Capital is an international investment banking firm committed to integrity, excellence, leadership and service in delivering corporate financial advisory services, merger and acquisition expertise, financial opinions, and valuation services to publicly and privately held businesses. These services position our clients to succeed in the global marketplace. In undertaking each new project, the client's goals and objectives become ours, ranging from financial advisory and successful capital raises to M&A transactions to transfers of ownership. Madison Street Capital views emerging markets as the core component driving the global growth of our clients, and will continue to focus significant assets on these markets. Our firm has earned the trust of clients around the world through our unwavering dedication to the highest levels of professional standards. For additional information, please visit our website at
www.madisonstreetcapital.com