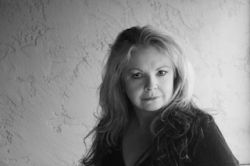 Glendale, AZ, May 27, 2017 --(
PR.com
)-- Reclusive former TV Sit-com Writer returns with Two eBooks, "Bad Reputation" and "Challenger."
Rebecca Parr Cioffi joins self-publishing eBook revolution.
Writing TV came to Rebecca early on and she found herself writing a Big Three network TV show at age 22. Two years later found her working on staff of several of TVs biggest hits in the 80's and 90's, including Cheers, Roseanne and the 1980's Twilight Zone revival.
By the ought's, Rebecca saw that changes were coming to TV with hundreds of cable channels and just an abundance of TV outlets. She walked away from Hollywood in her late 30's and started quietly to write novels, something she swears she never thought of doing. Said Cioffi, "TV is so fun but it takes stamina to write and rewrite TV and keep extremely long hours in production. Besides, turning 40 almost made her invisible, with Hollywood wanting writers who were younger, fresher and much less expensive."
Stories of this time have been included in the fictionalized memoir, "Bad Reputation." Celebrities and power names are dropped, but Cioffi seems to throw a lot of the blame upon herself or her fictional self, as it is fiction. But very few writers have the dark, mordant wit of Cioffi who was cited by the WGAW as a writer on the 101 Best Written TV Series. Cioffi wrote on two of those shows, Cheers and Roseanne.
But it is eBooks where you can now find Cioffi who first wrote Bad Reputation, a book that is funny, warm touching and enthralling. Bad Reputation takes us on a journey with a first person voice that one reviewer claimed was, "Like an illegitimate child of Jerry Stahl and Cary Fisher."
Cioffi's latest book, "Challenger" is a thriller about a woman who has lost everything, including her husband, home and job due to a senseless crime and bureaucracy. Trying to recover, she wins a brand new Dodge Challenger and no sooner does she pick it up and drive it away only to be carjacked a few minutes later.
What happens and where it takes her, is the warp and woof of this cruel game that takes a young woman and pushes her to the very edge. Then she comes out fighting, gaining strength and courage and real love along the way.
Bad Reputation is available here ASIN: B0725K1MMG
Challenger is available here ASIN: B01BPCCXII
If you prefer to not purchase a Kindle edition, They are also available on iBook, Smashwords, Barnes and Noble online and most sites selling eBooks worldwide.