New Business Case Study: Automotive Emergency Shipments, How to Keep the Costs Down by Air Time Critical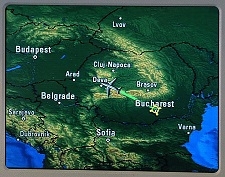 Manchester, United Kingdom, June 06, 2017 --(
PR.com
)-- Air Time Critical announces its new business case study: "Emergency Air Freight Romania to England: Keeping Costs Down." In this series of logistics business cases, Air Time Critical - European freight forwarder specialising in emergency logistics for the automotive industry - offers an insider's view of what happens with a sudden, critical supply chain problem which threatens a factory's smooth production
This issue recounts the true story of a late evening emergency shipment between an automotive supplier based in Romania and their manufacturing client in the UK.
The reader will obtain tips on how to handle a supply chain emergency while keeping costs down by using the most suitable solution. Find out more by reading the full article on Air time critical's website:
emergency freight Romania to England
About Air Time Critical:
Air Time Critical is a European forwarding company with headquarters in Brussels international airport. They specialise in emergency freight solutions such as critical air freight, air charters, helicopters, and on board courier services. Air Time Critical benefits from the resources of a wider transport group and is supported by a vast network of operational agencies and IATA agents across Europe, overseas in all Asian countries and North America, as well as in Turkey and Tunisia. With a focus on automotive and industrial emergency shipments, sectors where losses reach millions of euros in case of late delivery, Air Time Critical has acquired a unique know-how in handling critical supply chain situations over the years, which has helped build their reputation and image as a solution provider. Air Time Critical is continuously working to improve their performance to remain in a position to offer the best on-time delivery ratings within the forwarding industry. This standard is achieved through an exclusive and growing network, sound financial resources, and powerful logistics and IT systems. Air Time Critical works with major automotive manufacturers and renowned tier-one suppliers. Official website:
airtimecritical.com
Air Time Critical – emergency freight solutions - EU support: +32 2 888 84 16
Contact
Air Time Critical
Nicolas Mery
+3228888416
airtimecritical.com
EU support center - Brussels Zaventem international airport

Contact
Multimedia
Emergency freight solutions for critical shipments: premium air freight, air charter service, helicopters, on board courier.