"Where Is Your Heart?" from Award-Winning Album "Pop" Released by NYC-Based Young Pals Music
Moody anthem helmed by Producer & Songwriter Ayhan Sahin explores those moments when inner darkness finds a pathway to light.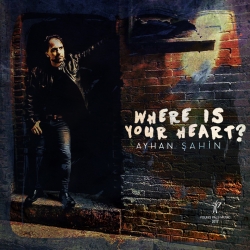 New York, NY, June 02, 2017 --(
PR.com
)-- There are times when life events prompt us to hide behind inner walls, and then, methodically, to break out of loneliness, darkness and anxiety. That journey—and its ultimate redemption—personify the sonic triptych of "Where Is Your Heart?"
Co-written and co-produced by award-winning Ayhan Sahin with hit songwriter Bernadette O'Reilly and released by New York City-based
Young Pals Music
, "Where Is Your Heart?" is the unprecedented eighth single from the album, "Pop."
As the song explores that internal pilgrimage to find strength on the other side, its gently cascading melody, acoustic guitars, plucky piano and rat-a-tat percussion boost the track with an inherent spirit of optimism that helps propel its missive of recovery.
In the lead vocal from Sahin, he sings, "When night goes never-ending, when winter is your heaven, why is this the story of my life?/Where is your heart, Where is your soul, Who reaches out there when you fall?/Never say never when you're down."
"Where Is Your Heart" was recorded live with renowned New York musicians Tom Gallaher on piano, Rob Preuss on keyboards, drummer Mike Sorrentino, and bassist Carras Paton, with background vocals from Jerri Bocchino & Keith Fluitt. It was mixed by Sahin and mastered by Greg Calbi of Sterling Sound.
"This single is particularly close to my heart and to Bernadette's, reflecting on a very real struggle that a dear friend endured," Sahin says. "The happy ending is that through such sadness she found strength she never knew she had."
The album project, meanwhile, "took three years of planning to find the right vocalists to go with the songs. We've been really fortunate to gather so much talent," he adds. "It's been so gratifying—and a lot of fun—to release each single and watch them find their audience in diverse and often unexpected ways."
Indeed, "Pop" is the album that keeps on giving. "Where Is Your Heart?" follows last winter's single "Hard Times," sung by multi-platinum recording artist and American Music Award Winner Randy Jones, who is beloved as The Village People's iconic cowboy.
The single before that, "Another Bad Mistake," features lead vocals from beloved disco act Anita Ward, renowned for her seminal No. 1 "Ring My Bell," which hit the top of the Billboard Hot 100, Disco, and Soul Singles charts in 1979.
In all, the 12-track "Pop" showcases more than a dozen diverse vocalists & musicians across a myriad of styles, including R&B & soul, dance, jazz, country and of course… pop. All songs are co-written and co-produced by Sahin. In April, "Pop" was awarded The Akademia Music Award for Best Rock Song for single "Drink."
The album is the first namesake project for award-winning Turkish-born Sahin. He founded independent label Young Pals Music in 2007, through which he has released a dozen albums over the past decade. He has worked with Olivia Newton-John, Mexican superstar & Broadway star Bianca Marroquín, Melba Moore, Phoebe Snow, Turkish superstars Sezen Aksu and Sertab Erener, Sandra Bernhard and five "American Idol" finalists.
Sahin has appeared on Univision, while his music has been featured in Billboard, The Los Angeles Times, Playbill, MTV, Yahoo! Music and on CNN and "The Wendy Williams Show."
Contact
Young Pals Music
Mike O'Reilly
917-693-2688
YoungPalsMusic.com
https://www.facebook.com/YoungPals/

Contact