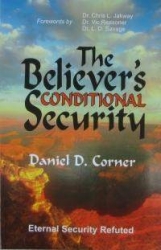 Washington, PA, June 09, 2017 --(
PR.com
)-- Brother Dan Corner of EvangelicalOutreach.org announces availability of his book, "The Believer's Conditional Security: Eternal Security Refuted." Author Brother Dan Corner says the Eternal Security Doctrine is not true and he is currently available to debate this issue with qualified opponents. The following are Brother Dan Corner's statements on Eternal Security:
The belief in once saved always saved continues to be a point of debate among Bible-believers. Is it true or not, that once a person repents and submits to the Lordship of Jesus Christ and becomes saved, that he will forever remain saved regardless what he does or doesn't do afterwards? Brother Dan Corner, the author of "
The Believer's Conditional Security: Eternal Security Refuted
," says absolutely not! There is no
eternal security
or once saved always saved, according to God's word. Christians who
backslide
are on the road to hell again and must repent to be forgiven, just like the prodigal who became "alive again" after he repented of his wild living (Lk 15:24). There are no Christian adulterers, no Christian drunks, no Christian thieves, etc.
Debating is a Christian practice (Acts 6:9,10; 18:28; etc.). Author and director of
Evangelical Outreach
, Dan Corner, is now available to reason from the scriptures (Acts 17:2; 17:17) over this salvation-related issue. A radio debate is preferred and sought out, but the opponent/s must be able to accurately express their view. Therefore, a pastor, radio host, author, seminary teacher, etc. are the perfect type Brother Dan is seeking out to debate
once saved always saved
for the sake of souls.
Brother Dan believes a Christian must endure to the end to be saved (Mt. 10:22; Heb. 3:14; Rev. 2:10,11), which doesn't always happen! Sadly, many saints have turned back, departed from the faith or fallen from grace after becoming saved. Some have returned to salvation by
repentance
, while others have not!
To teach a
license for immorality
and call it grace doesn't make it saving grace. Such a distortion about grace (Titus 2:11,12 cf. Eph. 5:5-7) has resulted in a violent distortion of the image of a Christian. A true Christian is a saint (holy one), not a slave to sin. He has been set free from sin addictions (Rom. 6:22). He is following the Lord Jesus – doing the will of God – in this sin-filled world (Mt. 7:21b; Lk. 8:21; Heb. 5:9). A person who is in the sins cited in 1 Cor 6:9,10; Eph 5:5-7; Rev 21:8; etc. is not presently saved, though he could have been in the past.
A conditional salvation security for the believer in Christ is foundational to the
gospel
itself: "By this gospel you are saved, if you hold firmly to the word I preached to you. Otherwise, you have believed in vain." (1 Cor 15:2) The sooner Christians become aware of God's truths, the sooner they will diligently guard, keep and hold on to what they have. It is their responsibility under grace to do so. Jesus taught: "... Hold on to what you have, so that no one will take your crown" (Rev 3:11), but many aren't!
Please contact Evangelical Outreach, PO Box 265, Washington, PA 15301 or phone 724-632-3210 to arrange such a Christian debate or to interview Brother Dan Corner. You can order his 801 page book, "The Believer's Conditional Security: Eternal Security Refuted" here at
Christian books
. If you are a Christian, remember: "We have come to share in Christ if we hold firmly till the end the confidence we had at first." (Heb 3:14) Do not be deceived.