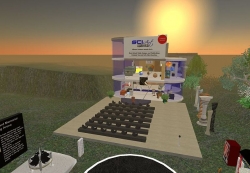 Temple, NH, February 13, 2008 --(
PR.com
)-- SciArt Media, a Temple, NH based web design and publishing company, is opening a new office and more on President's Day, February 18th. What is unusual is the location of the new office: it is nowhere in the real world – it is entirely virtual – located in the realm of Second Life.
The entire complex will be known as the SciArt Media Center. This center consists not only of a virtual store (where both real and virtual items and services can be bought and sold with in-game currency called Lindens, which can easily be exchanged for real money), but other, less traditional, areas as well:
In addition to the three-floor store, there is also a classroom and lecture hall, where educators can book time for free and teach classes that have up to forty-two students at a time, as well as a "Geology Lounge" where people can sit and relax beside an erupting volcano, a jazz and blues club called the "Be Bop" where people can dance or just kick back with a virtual drink, and an area for virtual skydiving.
James Maynard, the New Hampshire native who is both the owner of the real-life company and the owner/designer of the virtual media center, said that he is "quite excited about the possibilities open to businesses within the virtual world. Companies such as IBM, Microsoft, Coldwell Banker and Ben and Jerry's, as well as organizations such as Jet Propulsion Laboratories, have all opened offices in Second Life. Artists such as Suzanne Vega and Duran Duran have played live concerts in the same virtual world, as well," he explained.
The SciArt Media Center covers almost two-thirds of an acre and was nearly a year in construction. During the grand opening of the store on the 18th, people will also get sneak previews of the rest of the complex, including the jazz club and lecture hall, each set to open soon.
People wishing to come to the grand opening at 1 pm EST (10am Second Life time) can easily join the Second Life community and appear at the center by pointing their internet browser to: http://slurl.com/secondlife/Ascalon/177/10/99. Alternatively, people can also join Second Life (if you are not already one of the over ten million players currently in-world) by going to www.secondlife.com and once in-game, searching for SciArt Media and teleporting to the media center. It is recommended that if this is your first time in Second Life, you should arrive a half-hour early to get used to moving around in the world and for editing your character.
There is no charge for the event, the game download is free, and the public is welcome. For any questions, please call SciArt Media at: (603) 397-0053 or by e-mail: secondlife@sciartmedia.com.
SciArt Media
PO Box 55
Temple, NH 03084
(603) 397-0053
secondlife@sciartmedia.com
###