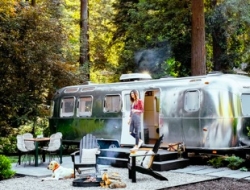 Los Angeles, CA, June 13, 2017 --(
PR.com
)-- AutoCamp, the luxury Airstream camping experience, proudly announces their participation in the 2017 Dwell on Design tradeshow this summer in Los Angeles, CA.
AutoCamp will feature two full size custom Airstreams and a Luxury Tent which will be available for visitors to experience in addition to a series of Campfire Conversations with the team of designers behind the AutoCamp brand. According to Ryan Miller, chief marketing officer, "Our design aesthetic and innovative outdoor experience, make us a natural partner with Dwell on Design. We've added an element of design to the camping experience that has never really been there before. We are very excited about the opportunity to introduce AutoCamp as new way to experience the outdoors in true comfort and style, in what we are calling Outdoor Hospitality."
The annual event, held at the Los Angeles Convention Center, is the largest modern design show on the west coast. Beginning Friday, June 23 through Sunday, June 25, 2017, Dwell On Design will feature 300 exhibitors in 100,000 square feet of space that is transformed into a life size design incubator.
The AutoCamp booth is #2045 and is adjacent to Dwell Outdoor at booth #2246. Show hours are 10 am to 6 pm on Friday, 10 am to 5 pm on Saturday and 10 am to 4 pm on Sunday.
About AutoCamp
Created by California natives Neil Dipaola, Ryan Miller and their team at Mesa Lane Partners, AutoCamp is an outdoor, design, and community experience for people who love nature while still addressing their need for proper amenities and the luxury of a no-fuss hospitality experience: a term coined "glamping" by Millennials. As an easy, clean, and stylish escape, this is camping anyone can do. Luxury linens, down bedding, bathrobes, top tier bath products, and spa-inspired bathrooms welcome guests after their active outings. AutoCamp has locations in Santa Barbara and Sonoma, CA, as well as several others coming soon.
For more information, visit www.AutoCamp.com. To learn more about partnering with AutoCamp call Ryan Miller at 805-618-2521 x 101. For group inquires email Wendy@AutoCamp.com