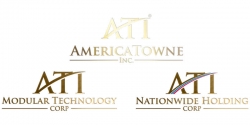 Raleigh, NC, June 23, 2017 --(
PR.com
)-- AmericaTowne, Inc. ("AmericaTowne") announced today that its two subsidiaries - ATI Modular Technology Corporation, a Nevada corporation and ATI Nationwide Holdings Corporation, a Florida corporation completed their respective company-related actions pending before the Financial Industry Regulatory Authority ("FINRA"). As a result, the symbols on the OTC Marketplace for ATI Modular Technology Corporation and ATI Nationwide Holdings Corporation are ATMO and ATIN, respectively. These companies are in the process of taking the requisite steps to lift the caveat emptor and stop signs reflected on the listings.
AmericaTowne's Chief Executive Officer, Alton Perkins, stated, "Completing the company-related actions for ATI Modular and ATI Nationwide is a significant step in implementing both subsidiaries' business plans. We can now focus on capital raising in furtherance of our objectives, and look forward to new and exciting opportunities, all with an eye towards increasing shareholder value in not only these subsidiaries, but also AmericaTowne."
About AmericaTowne and Its Subsidiaries
AmericaTowne is incorporated in the State of Delaware. AmericaTowne's objective is to provide upper and middle-income consumers in China with "Made in America" goods and services, allowing customers to experience the United States' culture and lifestyle. Additionally, AmericaTowne sees opportunities in developing areas, such as countries in Africa, in implementing business solutions considered mainstream in the United States, but relatively new in these developing regions. ATI Modular is incorporated in the State of Nevada. It is a related party to AmericaTowne by virtue of AmericaTowne's majority and controlling interest. ATI Modular's intent is to provide AmericaTowne and other third parties, in developing countries, with services relating to modular construction. ATI Nationwide is incorporated in the State of Florida. It is also a related party to AmericaTowne by virtue of AmericaTowne's majority and controlling interest. The controlling interest in ATI Nationwide was acquired by AmericaTowne pursuant to a Joint Venture Agreement between AmericaTowne and Nationwide Microfinance Limited, a Ghanaian corporation ("Nationwide"). ATI Nationwide aims to provide export services, financing services, insurance placement or other related services in Ghana.
AmericaTowne, ATI Modular, and ATI Nationwide are publicly reporting companies with the United States Securities and Exchange Commission. Their periodic, quarterly, and annual reports and other disclosures may be found at www.sec.gov/edgar. ATI Modular and ATI Nationwide are listed on the OTC Pink with the OTC Markets Group under the symbols "ATMO" and "ATNI" respectively. It should be noted that both companies are current on their SEC reporting obligations and are working to remove the caveat emptor and stop sign currently displayed on their respective profiles.
Forward Looking Statement
This press release contains forward-looking statements that relate to expectations, beliefs, projections, future plans and strategies, anticipated events and similar expressions. Forward-looking statements may be identified by use of words such as "may," "will," "should," "expects," "intends," "plans," "anticipates," "believes," "estimates," or "potential" or similar words or phrases which are predictions of or indicate future events or trends. Statements such as those concerning potential acquisition activity, investment objectives, strategies, opportunities, other plans and objectives for future operations or economic performance are based on the Company's current expectations, plans, estimates, assumptions and beliefs that involve numerous risks and uncertainties. Any of these statements could prove to be inaccurate and actual events or investments and results of operations could differ materially from those expressed or implied. To the extent that the Company's assumptions differ from actual results, the Company's ability to meet such forward-looking statements may be significantly and negatively impacted. You are cautioned not to place undue reliance on any forward-looking statements and the Company disclaims any obligation to publicly update or revise any forward-looking statement to reflect changes in underlying assumptions or factors, new information, future events or other changes.
Contact: Alton Perkins, 919-436-1888, ap@americatowne.com
www.americatowne.com
Source: AmericaTowne, Inc.