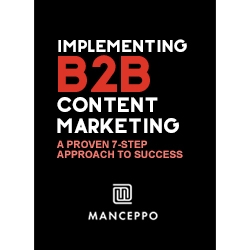 Boston, MA, June 26, 2017 --(
PR.com
)-- B2B marketing has changed for good. B2Bs need to think, act and communicate from the buyers perspective. With loose promises, swirling service descriptions and so-called unique selling points, the information hunger of business decision-makers can no longer be set. Those who wish to build a good relationship in an early stage of the buyer journey will have to focus on the buyer's context. Transparency, knowledge sharing and authenticity have become conditions for success.
B2Bs are turning to blogs, social media, animations, webinars, e-books and white papers, hoping to generate qualified sales leads. But how can you set up an effective strategy? How do you attract, engage and convert your audience? And how can you effectively use marketing technology?
B2B Content Marketing start-up Manceppo just launched a new book presenting a proven seven-step approach as a guide to success. The book appeared on Amazon as hard copy, but can also be downloaded for free on the
Manceppo website
.
The proven seven-approach includes:
Step 1: Content Marketing Strategy
Step 2: Planning Content Marketing
Step 3: Creating Highly Relevant Content
Step 4: Attracting Your Audience
Step 5: Converting Leads
Step 6: Organizing Content Marketing
Step 7: Using Content Marketing Technology
Manceppo
Marketers benefit from an abundance of great and easy to use marketing apps, including WordPress, MailChimp and Social Media. Combining apps into an integrated platform however is a challenge. Manceppo offers a cloud-based integration enabling marketers a central store for content and profiles. Our smart workflows empower marketers to build a low cost marketing automation platform, using their existing tools. You can
pre-register
for the beta release.