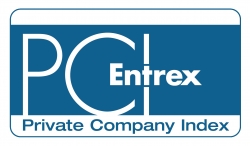 Chicago, IL, February 14, 2008 --(
PR.com
)-- The Private Company Index (PCI) is pleased to name Appletree Answering Service as its 2007 Top Growth Company. The 12-year old Wilmington-based company, offering live answering and call center services, experienced average annual revenue growth of 65% over the past three years. A $12 million company today, continued growth efforts at this level could see that figure climb exponentially over the next few years.
"It's hard to believe when you put it in that context. We just get up and do it everyday, so it doesn't seem like a big deal to us." says Appletree CEO John Ratliff.
The Private Company Index measures monthly revenue growth trends in the under $100 million sector of private companies. In 2007 the Index saw an increase of 33%. Meaning that the diverse portfolio of companies grew that amount – on average.
Appletree (www.appletreeanswers.com) not only doubled PCI performance, but sustained consistently high growth for three years running. Ratliff attributes this significant growth to an equal combination of acquisition and organic development. Though they acquired ten companies between 2006 and 2007 alone, he insists that the acquisition process is not the silver bullet to revenue growth that people may think.
"We buy average-sized small companies. About a million dollars in annual revenue or less. They aren't necessarily underperforming but they are under realizing their capability; we're able to convert them. So while the purchase might only acquire three quarters of a million in revenue, within a year we expect to have that site earning $1.5 - 2 million." explains Ratliff.
He adds, "We don't just buy a company and then forget about it. We buy and then infuse the Appletree fundamentals. Everything from business process to customer experience. We're building a customer and employee-centric brand that needs to be represented by all our regional locations."
In today's world of outsourcing, a call center could literally be located anywhere and be effective. That said, Appletree has thirteen locations – including a Puerto Rico branch which serves the growing bilingual market. When asked, Ratliff is clear about the need for this. "We've measured it. One third of our customers sincerely care that we are local. Of course we could consolidate it all into one big office and obviously save a fortune in overhead. We go through that forecasting exercise about every 18 months, but then we come to our senses and we don't do it. It is tempting from a margin standpoint but it would not be in the best interest of the customer."
Looking ahead to 2008, Ratliff is positive about the company's experience regardless of what the US economy may bring. He clarifies, "Our customers are spread over a broad industry base and our services allow companies to actually reduce their in-house costs while still serving their own clients. The number one rule for a recession is to protect your revenue base. Which means cut costs where you have to while serving your customers 100%. We provide our clientele an attractive option for that."
###