Welcome Reverend Julie Eklund, New Pastor of Redeemer UCC Sussex, August 1st 2017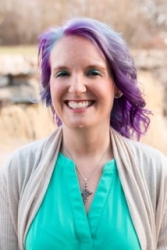 Sussex, WI, July 07, 2017 --(
PR.com
)-- Welcome Reverend Julie Eklund, new Pastor for Redeemer UCC, Sussex, WI.
Julie is a recent Masters of Divinity graduate from the Chicago Theological Seminary, Chicago, Illinois. Rev. Julie and her husband Dustin and two sons are relocating to the area from Rockford, IL. Please join the people of Redeemer to celebrate her arrival on Sunday August 6th at 9:30AM at Redeemer UCC on Town Line Road and Hwy K/Lisbon RD on the border of Sussex and Menomonee Falls.
May 15, 2016 saw the retirement of Rev. Bob Ullman, leader of the community for over 34 years. While challenging to say farewell to such a beloved leader for that amount of time, the community of Redeemer is thrilled to embrace a new Pastor and Teacher in Reverend Julie Eklund.
The ethos of the community is one of inclusivity to all God's people, attentive to God's Word, supportive of one another, and responsive to Christ's call. Redeemer.
UCC has been a long time member of the Cooperating Churches of Sussex and very involved in felt-need practical ways to the surrounding Communities.
Contact
Redeemer United Church of Christ
Linda Graebner Smith
262-246-6710
www.RedeemerUCC.org
Connie Pinzl - Parish Administrator

Contact