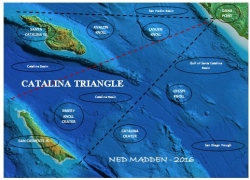 San Clemente, CA, July 11, 2017 --(
PR.com
)-- Journalist Ned Madden, a contributing writer for
OC Weekly Magazine
, has announced online publication of
"The Catalina Triangle,"
the third installment in Madden's three-part "South Coast Trilogy" focused on strange people, places and events at the southern tip of Orange County, Calif.
"The Catalina Triangle" (see
www.catalinatriangle.com
) deals with a 1,200-sq. mi. area of Pacific Ocean located midway between Los Angeles and San Diego off the Orange County coast linking Dana Point with Santa Catalina and San Clemente islands.
Ned Madden has discovered what he describes as numerous strange curiosities uncovered while researching the Catalina Trangle area.
"I've been writing about this area for nearly thirty years, but I was still surprised to learn what an incredible variety of mystery, lore and legend surrounds the space I've come to call the Catalina Triangle," said Madden. "It's just a small patch of ocean off the immense Southern California coast, but it's overloaded with fascinating geological anomalies and often bizarre tales about historical characters, incidents and happenings."
Madden was first introduced to the idea of a Triangle by Larry Culbertson of the San Clemente Historical Society while researching an article on San Clemente Island. The southernmost of the eight California Channel Islands, San Clemente Island is currently owned and operated by the U.S. Navy and remains closed to the public.
"San Clemente Island is part of a geographical triangle...like the Bermuda Triangle," Culbertson told Madden. "The other two points in the triangle are Catalina Island and Dana Point."
In preparing his story, Madden decided to call the Triangle "Catalina" because of the prominence of Santa Catalina Island, located just 42 miles offshore. The island got its modern name in 1602 from a Spanish explorer in honor of the (most likely fictitious) teenage virgin martyr Saint Catherine of Alexandria.
"I will be blogging regularly at Catalinatriangle.com about the Triangle as I fill in more detail and background on the crisscrossing histories of Dana Point, the islands and the space in between," said Madden, who has lived in San Clemente, Calif. since 1989.
There's also a Catalina Triangle Facebook page at
www.facebook.com/catalinatriangle
.
"The Catalina Triangle" is the third installment in Ned Madden's "South Coast Trilogy" series. The first two segments in the trilogy:
"Ace Hoffman Is Tilting at 'Nofre" (2013)
On San Clemente's southern tip just across the county line sits the San Onofre Nuclear Generating Station (SONGS), permanently shut down just a few months after this article was first published.
"The Death Ray" (1999)
This article, the first installment of the trilogy, discusses San Clemente's remote eastern edge and a military facility known as the TRW Capistrano Test site.
Contact:
Ned Madden
San Clemente, Calif.
nedmadden@yahoo.com