VOENA Children's Choir Accepts Invitation to Perform at New York City's Carnegie Hall with Eric Whitacre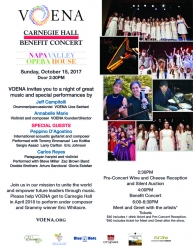 Benicia, CA, July 26, 2017 --(
PR.com
)-- "Get us to Carnegie Hall" are the words that Director Annabelle Marie often spoke after a season of performances. "We have talent musicians that deserve to be on stage in New York and we need to make it happen for these children in VOENA."
Well, that's exactly what she has done. Seventeen of the most seasoned performers from VOENA are headed to New York City's Carnegie Hall in 2018, to perform the work by Grammy Winner, Composer and Conductor Eric Whitacre. These children will be joined by other choristers from around the globe as part of the Distinguished Concerts International New York's performance of "The Music of Eric Whitacre."
"Being invited to perform in Carnegie Hall is a wonderful honor and is a benchmark for our choir," Marie said. The opportunity to have our students work with Eric Whitacre and to perform in the world's greatest concert hall represents outstanding musical achievement. It is a thrilling opportunity for many of these children who have never even been to New York."
The concert is set for April 8, 2018 in the Isaac Stern Auditorium at Carnegie Hall. "VOENA Children's Choir received this invitation because of the quality and high level of musicianship demonstrated by the singers as well as the exceptional quality of their audition recording. It is quite an honor just to be invited to perform in New York. These wonderful musicians not only represent a high quality of music and education, but they also become ambassadors for the entire community. This is an event of extreme pride for everybody and deserving of the community's recognition and support," said Jonathan Griffith, Artistic Director and Principal Conductor for DCINY.
The singers will spend five days and four nights in New York City in preparation for their concert, spending each afternoon in rehearsal for the DCINY performance. The VOENA students will also take this opportunity to explore and take in the culture of New York City.
Director Annabelle Marie really hopes the community will support this wonderful opportunity and help defray the costs for the choir as it will take an estimated $75,000 to cover the total cost of travel, lodging and meals.
The students are excited about the invitation and they are working hard preparing for a Benefit Concert that will take place at the Napa Valley Opera House on October 15, 2017 at 2:30. The Opera House is sponsoring the event along with other talented local musicians, Jeff Campitelli, former drummer for Joe Satriani, Peppino D'Agostino, international acoustic guitarist, and Carlos Reyes, world-renowned Paraguayan harpist and violinist. Of course the VOENA children will also be performing a few songs as well. "It will be a night to remember," said Annabelle Marie. Tickets can be purchased at ticketmaster.com or through voena.org.
Members of the community are encouraged to give financial support in sending these student singers to New York by contacting Michelle Fulbrook at (707) 363-1538 or via email at michelle@voena.org or by donating online through voena.org, tab donate.
About VOENA
VOENA is an award-winning children's a cappella singing group, serving over 120 children ages 6 to 18 from all over the Bay Area at two regional chapters in Benicia and Santa Rosa. VOENA in the schools program serves Title 1 Schools in Benicia and Napa. Director, Annabelle Marie inspires children to celebrate music through voice, sound, rhythm, and physical expression. Singing in over 25 languages, VOENA has performed around the globe inspiring audiences at the 2012 London Olympics, the Grand Ole Opry, as repeat guests at the White House, for Pope John Paul II at the Vatican in Rome, and as goodwill ambassadors to Bali, Italy, Ireland, China, and Japan. VOENA was the first American choir to sing at the Soweto Festival in South Africa. VOENA will be performing at Carnegie Hall, New York City in Spring 2018 to spread their mission to unite the world and empower future leaders through music.
Photo Credits: Cindi Stephan of Two Irises, www.twoirises.com
Contact: Michelle Fulbrook, Business Manager, VOENA; michelle@voena.org;
(707)363-1538.
Contact
VOENA
Michelle Fulbrook
707-363-1538
voena.org

Contact