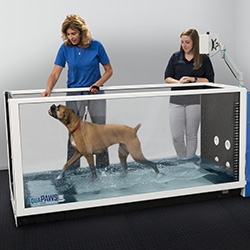 Angola, IN, July 29, 2017 --(
PR.com
)-- Hudson Aquatic Systems officially announces the expansion of their canine product line with the new AquaPaws SS underwater treadmill system. The AquaPaws SS improves the lives of canines and small animals by offering a low-impact, high resistance therapy session, optimal training and conditioning, or workout for rehabilitation from injury in a system offering the most beneficial aquatic therapy options.
Hudson first unveiled the new AquaPaws SS earlier this year at the NAVC (North American Veterinary Conference) in Orlando, Florida, February 5-8th and later officially introduced it at the AVMA (American Veterinary Medical Association) Convention in Indianapolis, Indiana, July 22nd-24th. The AquaPaws SS provides the natural properties of water (buoyancy, resistance and hydrostatic pressure) for a rigorous cardiovascular workout with reduced impact and stress on joints, and enhanced features new to the AquaPaws product line.
This new unit, being the latest and most advanced in the AquaPaws underwater treadmill line, offers the lowest entry threshold on the market, includes a magnetic door (no handle), has a larger running surface, larger windows, and holds up to 30" of water (3" more than any previous model and more accommodating for larger breeds). The treadmill also offers adjustable speeds for a more rigorous workout, along with several optional features like resistance jets, an incline adjustment, UV water sanitization, and a technician bench to enhance patient outcomes.
"The SS was built to be the 'simply smart' choice, as we listened to the veterinarians and technicians that use our products every day, and from their feedback designed the AquaPaws SS from the ground up," said George Hunter, president of Hudson Aquatic Systems. "The new design is smooth and clean, easy to access, has more space to maneuver, and requires no extra tools for maintenance. We also offer our current customers and past (Ferno) customers after-hours service support, a storefront on our website to purchase accessories or chemicals at your convenience, and a water care specialist with 20 years of experience to assist with water quality questions. We are excited about the response to the AquaPaws SS so far and look forward to providing continued options and features for our customers that will better serve them and their patients."
Hudson Aquatic Systems is located in Angola, Indiana, and has been manufacturing aquatic therapy equipment and systems dating back to the 1920s. The AquaPaws was invented at Ferno/Hudson in 1997 with over 500 units sold worldwide to date. Hudson designs, engineers, and manufactures the highest quality performance aquatic systems, therapy pools, swim spas, and hydrotherapy products for the human, canine, and equine markets. Hudson (Ferno) products can be found around the world in fitness centers, hospitals, veterinary teaching colleges, YMCAs, physical therapy offices, college and professional sports training centers, military facilities and hospitals, and equine barns and tracks. For more information:
www.hudsonaquatic.com/products/canine/aquapaws-ss/