GigRoster Reimagines Local How Local Bands Find Gigs
Shifting a brick and mortar style business model to the online world can be a balancing act with the upside of convenience versus the loss of the human element. Professional Entertainment's GigRoster.com hopes to strike that perfect balance. Armed with 30 plus years of experience, thousands of loyal performers, and a streamlined online system, they seek to revolutionize the world of entertainment planning with the aplomb of an highwire acrobat.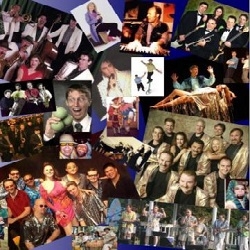 Seattle, WA, August 03, 2017 --(
PR.com
)-- Can a business with a 30 year tradition of connecting clients and service providers in a niche market successfully reinvent itself, becoming an industry leader in the 21st century? Seattle-based company
GigRoster.com
thinks it can by embracing an old school way of person to person interaction while addressing the future needs of its unique marketplace. Their aim is to bring the way entertainment has traditionally been booked for events into the 21st century. With an already expansive and always growing stable of more than 4,500 local performing acts and entertainers throughout all 50 states, this could very well be a movement that changes the face of the thriving event industry in the US.
Darrell Wagner, company chair and lead strategist, hasn't always held such grandiose plans for the business. A former working musician himself, he started the organization as a small side project finding classical players for local churches. Before long local musicians and event planners had begun calling him to arrange "gigs" and Wagner realized that his roster of performers held real world value beyond an occasional performance and a little side income. Fast forward a few decades, grow the network throughout the US and swap the Rolodex for a digitized online network. The original company, Professional Entertainment Consultants, had evolved into the GigRoster online booking interface. It was an explosion that was waiting to happen but there was still one important catalyst missing to achieve critical mass. The human factor.
Though an online approach to entertainment booking is not new, Wagner knew that a foray into the digital world often came at a cost to the element of human interaction. "I've seen plenty of sites offering to book a band, but they all eliminate the person to person connection that makes the booking right for that individual. Live music and entertainment have always been about bringing people together, and with musical taste, it is a very personal choice. That just gets lost when the process of finding the perfect act boils down to a series of webpages, clicks and bidding on price. Add to that the relatively high cost of of live entertainment services, hundreds or thousands of dollars, and the fact that for many people this may be the first time they have ever hired performers and the experience can leave the clients and performers feeling abandoned." With these considerations in mind, Wagner set out to create a company ready to move into the future while still holding true to its very human roots.
"I've seen plenty of websites offering to book a band, but they all eliminate the person to person connection that makes the booking right for that individual." - Darrell Wagner, Company Chair
The development team considered business models of such things as peer to peer networks like modern rideshare services with apps that help connect people for a specific task. In essence, an online resource that connects private agents to supply customers with a needed service, made possible by the user interface created and maintained by the company. Though the services offered by GigRoster are vastly different than a rideshare service in output, it still stems from the concept of connecting the right client with the right provider. The answer became a network of company trained local consultants who have access to the huge performer database and an advanced proprietary customer relations management system but who still know the intricacies of the local area and the music scene. GigRoster provides the complete, unified promotional sales packets for each available performer, insurance certification as required by many venues, full booking and contracting services and a secure payment gateway. This, as well as confirmation and follow-up resources for each and every potential booking, and the system becomes a very attractive way for clients to reserve entertainment while avoiding many common pitfalls.
Indeed, it is often the case that the consultants, not the underlying technologies, are the spark that helps bring life to the client experience. That is what Wagner strives for. Most of the consultants are working musicians themselves and therefore bring a unique base of knowledge, experience and connections that only they can offer. With an understanding that the local entertainment business is pretty specialized, Wagner explains that vetting the right individuals as consultants is a top tier priority. "They need to come to the table with a pretty wide variety of tools already at their disposal. It is our role to formalize it and provide the resources that no individual could hope to amass alone". With the musician/consultant at the helm of the whole process, individuals hiring an act feel the power themselves in making events magic, with appearances by bands at parties, string quartets at weddings, or Santa for a special holiday visit. Wagner says, "We want our clients to successfully procure entertainment as if they have years of experience. But then, that's our job. It only took us 30 years to make this happen overnight for our clients!"
Though excited for the upcoming company growth, the staff at GigRoster is still patient as pieces continue to move into place. They are steadily adding consultants to their growing team throughout the US, and with each new associate comes new performers, skills and a market that is better served.
Meanwhile musicians, bands, performers and entertainers continue to list themselves with Gigroster in ever growing numbers, currently at no cost, with a full array of professional resources provided for free. As Wagner explains, "We think in terms of the professional entertainers as our partners in creating successful bookings. If they don't get paid, we don't get paid, and this synergy makes it an easily accessible opportunity for both the clients and performers to come together."
For additional information resources or interviews please contact:
Professional Entertainment Consultants™
GigRoster® by Professional Entertainment™
7633 S 126th St #78583
Seattle, WA 98178
800-801-2484
media@gigroster.com
Contact
Professional Entertainment
Darrell Wagner
800-801-2484
gigroster.com

Contact