"The Yaku and the Undefeated" to Premiere at Newark Int. Film Fest
Reina Productions action film is an Official Selection for the Newark International Film Fest Sept. 8th- 10th 2017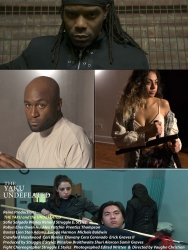 Newark, NJ, August 07, 2017 --(
PR.com
)-- Reina Productions action/martial art film "The Yaku and the Undefeated" has canceled its August screening date after being selected to Premiere in their new hometown film festival. The 2 year old Newark International Film Festival will take place in September. "We didn't think we'd be out of post in time to make the deadline but now we have a chance to premiere in our home city/state and that will be great," said director Vaughn Christion.
The film which wrapped shooting in January of this year stars newcomers Sofia Salgado and Wesley Renard as a young couple who's date night is interrupted when they encounter a renegade monk seeking vengeance for his brother's death.
Trailer
The film directed by Vaughn Christion(Key Of Brown-2013 & Heaven-1997) also features Struggle E. Stylez, Robyn Elise, Stan Adams, Owen Hu, Alex Patchin, Prentiss Thompson, Baxter Linn and veteran actors Europe Harmon and Michele Baldwin and is produced by Stylez, Christion and Winslow Braithwaite.
Reina Productions was founded in 1983 and produces independent films focused on minority and cross cultural stories.
Contact
Reina Productions
Vaughn Christion
973-348-9016

Contact