Grimes Trucking Awarded First Place in Outstanding Safety Achievement Award from the FTA
Having just received the Outstanding Safety Achievement Award from the Florida Trucking Association, Grimes Trucking Company is proud to be the safest fleet in Florida.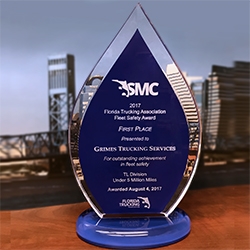 Jacksonville, FL, August 09, 2017 --(
PR.com
)-- Florida Trucking Association Safety Management Council Awards
The annual FTA Safety Management Awards are among the most prestigious awards their Association distributes. This program is designed to celebrate the incredible accomplishments of both driver and fleet. Award recipients represent impressive safety statistics in terms of both fleet operations and drivers with little or no accident history over a multi-decade career on the road.
Grimes Trucking Company
is honored to have received the recognition of Outstanding Safety Achievement and is proud to have been named the safest fleet in Florida. Part of this success is thanks to the experience and credentials that the Grimes truck drivers have. Grimes has created a safe environment for their drivers through the use of electronic on-board technology throughout their fleet and they are constantly researching other safety related technologies.
The overall success of Grimes Trucking is based on the high regard of the driver's ability to maintain compliance with safety protocols in the areas of on-road behavior, as well as vehicle and equipment standards. "This award is a tribute to the culture of safety that exists throughout the Grimes Companies. Our team has a strong desire to do the right thing and be safe and responsible operators," stated Executive Vice President, Ike Sherlock.
A Legacy of Safety and Experience
Backed by 40 Years of Shipping & Transportation in the Southeast, Grimes Trucking Company is one of the largest divisions of The Grimes Companies. Founded in 1972, the Grimes Companies offer experience and expertise in all areas of supply chain management. Their warehousing division also is celebrating safety recognition. Grimes Warehousing has achieved two whole years with no lost-time accidents or incidents. The Grimes Companies provides regular on-site safety training, ensuring all Grimes employees are trained and knowledgeable of safety regulations, guidelines and protocols.
Contact
The Grimes Companies
Michelle Williams
904-446-4800
www.grimescompanies.com

Contact