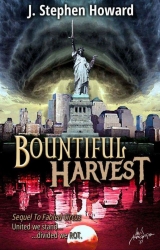 Santa Clarita, CA, August 12, 2017 --(
PR.com
)-- "Bountiful Harvest," the fifth book by J. Stephen Howard slated for publication in November of 2017 in all major digital stores, is the sequel to "Fabled Circus," which featured a boy who became orphaned for private reasons that soon have cosmic ramifications.
United we stand, and divided we rot.
The Newly United States of America in the year 2082 has developed little tolerance for those with imperfect DNA. Genetic modification has become the rage, and Teddy's father, who himself was born with a clubfoot, wants nothing less than perfection for his son. His obsession for Teddy to be normal leads to contracting a black-market geneticist whose efforts make the boy anything but.
That first book opens with a murderous scene as Teddy watches his father kill his mother before realizing he has powers that can prevent his own demise. Fleeing the only home he's known, he finds himself at the very orphanage his father had threatened to ship him off to, and then he joins a circus with a resident scientist who creates mythological creatures through genetic modification.
Teddy finds he's been thrown into something much bigger than himself as he learns of a band of misfits who, under the care and tutelage of geneticist Silas Troy, develop powers after their genes have been returned to their original state. These kids' parents hadn't been happy with their "imperfect children," and thus had their DNA tampered with.
At the end of "Fabled Circus," the actions of people on Earth such as the circus' scientist named Dieter, have drawn the attention of an alien species whose name translates in Latin to the Mutatio est Vita (Change is Life). These beings, who feed off the DNA of all living matter, have run out of "food" on their home planet. They've now come to Earth with promises of Global Communion.
With a corrupt government and ill-prepared army, Teddy and his merry band are all that stand in the way of an apocalyptic ending.
For press and other inquiries, please contact the author at
j_007howard@yahoo.com
and visit his website at
www.jstephenhoward.com
.