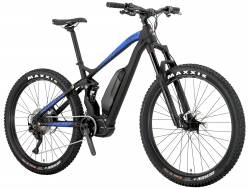 Dallas, TX, August 16, 2017 --(
PR.com
)-- Electrifying News: Did you know most people's first motorized bikes were Motobecanes? Now, After nearly a decade of intensive research and design on eBikes, Motobecane USA has developed and launched their first and best eBike possible.
Motobecane believes more people riding bikes makes the world a better place and envision eBikes as an incredible opportunity to bring more people into cycling.
This is an Enduro Pro-level mid-fat, Electric Mid-Drive Plus Bike with Boost Axles
The Motobecane HAL eBoost (Highly Active Linkage) by Motobecane USA. Building upon nearly two decades of FS design and nearly a decade of intensive eBike research and design, this HAL eBOOST 27.5+ Full Suspension is designed for up to 5 inches of terrain taming travel both front and rear.
The HAL Linkage uses a chainstay mounted pivot for even more supple suspension tracking and incredible control even while applying the brakes. Chainstays are optimized to a mere 444mm on the HAL eBoost models for incredible Billy Goat climbing and traction.
Well equipped with WTB TCS wheels, Maxxis tires, Top Rated Rockshox Pike Forks and Industry leading Shimano e8000 Mid Drive motors with Shimano XT drivetrains and XT Brakes for uncompromising performance and reliability.
Motobecane USA chose the Shimano e8000 mid-drive for it's incredible power and performance of 504WH/250W engine. Shimano has the best worldwide network of support. Virtually ever single bike related dealership has contact with Shimano for product support.
When specs are compared, no other eBike beats the HAL eBoost at this price. Stay tuned, Motobecane has more models to come.
List Price $7999