American-Japanese Guest House Voted in as One of the Top 10 Eco-Friendly Hotels for 2017
Only nominee in Massachusetts, Shirakaba Guest House, came in 4th in USA Today's 2017 10Best Eco-Friendly Hotels Contest.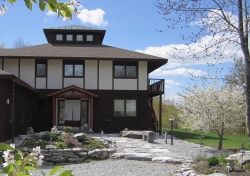 New Ashford, MA, August 17, 2017 --(
PR.com
)-- Upscale Berkshires Bed and Breakfast Comes in 4th in USA Today's "10Best" Contest in July.
The Berkshires, Mass. Small, medium, and large hotels around the US were nominated by a varied group of travel experts for USA Today's travel site, 10Best.com, "Readers' Choice" yearly contest for the most environmentally-conscious hotel of the year.
A panel of travel pros both on- and off-staff for Top10.com, choose their nominees based on several criteria. Each nominee had either US Green Building Council "Leadership in Energy and Environmental Design" (LEED) certification, Energy Star, or TripAdvisor's Green Leaders status. Nominees also had a significant amount of unbiased 5-star reviews by experts and guests who had visited the properties.
Once nominated, the more than 5 million monthly visitors then commence voting for their choice for the top position. Voting for this competition began on July 6th 2017 and completed at noon on August 4th.
Proprietors Sadao Yagi and Louise Palmer were very touched to have been nominated. "Giving back and treading gently on this earth is something we have believed in for our entire adult lives," Louise shared. "We took great care in the planning of our guest house so that we could share our love and appreciation of nature without harming her in any way."
Architected by Yoshihiko Sato and built in 1999 by nationally recognized expert Jack Sobon, those who shared in the labor of love also shared in Sadao and Louise's commitment to the environment.
Some of the sustainable features incorporated into the structure were radiant floor heating, triple-paned Thermotech windows and Icynene insulation to keep the hotel cozy warm in the winter. A geothermal heat pump provides heat in the winter and cooled air in the summer. Year round usage of solar panels and LED bulbs help keep energy usage at a minimum. An on-site well brings fresh, clean water free of chemicals and pesticides. The property is Energy Star rated, and has received TripAdvisor's Green Leader Platinum status.
Berkshires Shirakaba is located on 21 private acres half way between the famous Berkshires towns of Williamstown to the north and Pittsfield to the south. The intimate hotel has only 2 suites, making any stay a private and relaxing one.
For more information about their facilities and services, visit their website at www.berkshires-shirakaba.com.
You can also view their 161 5-star reviews on TripAdvisor.
Sadao and Louise offer a completely unique experience for those looking to get away from the city and into the quiet calm of the Berkshires in Western Massachusetts.
About Berkshires Shirakaba
Comprised of only 2 suites, the intimate Japanese-style guest house provides guests an exclusive upscale weekend getaway well worth the investment. Tranquility and privacy rest in the center of over 20 acres of a wooded knoll in the Berkshires Hills. Whether you ski 10 minutes away at Jimny Peak in the winter, relax at Tanglwood all summer long, or participate in Sadao's Japanese dinner prepared just for you, your stay at Berkshires Shirakaba will be a memorable one.
Press Contact
Contact: Louise Palmer, Proprietor
Email: Louise.Shirakaba@gmail.com
Media Contact: media@neovora.com
Berkshires Shirakaba
20 Mallery Rd
New Ashford, MA 01237
Phone: (413) 458-1800
Contact
Shirakaba Guest House
Louise Palmer
413-458-1800
www.berkshires-shirakaba.com

Contact