Larry H. Jacobs Recognized as a Top Executive and Prominent Business Leader by Strathmore's Who's Who Worldwide Publication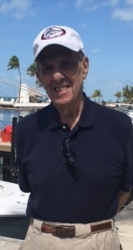 Locust Valley, NY, August 29, 2017 --(
PR.com
)-- Larry H. Jacobs of Locust Valley, New York has been recognized as a Top Executive and Prominent Business Leader for 2017 by Strathmore's Who's Who Worldwide Edition for his outstanding achievements and high level of success for 63 years in the button manufacturing field.
About Larry H. Jacobs
Mr. Jacobs is the President and Chief Executive Officer of Emsig Manufacturing Corporation, an 89 year old international manufacturing corporation which produces and distributes a variety of buttons including all natural buttons, bio-tech, fire retardant melamine, genuine leather buttons, green line, handmade buttons, logo mania, metal and plated, military, novelty, shirt buttons, super durable, swimwear collection, tailored clothing buttons and trouser buttons. They have been supplying all branches of the military for the past 74 years. The Company was started in 1928 in the heart of the Garment District in New York City by an Austrian immigrant named Emsig. Mr. Jacobs began his career at Emsig in the factory, holding numerous positions including serving in the accounting office for a year, serving in the administration department for several years, then transferring to sales to get a feel for that aspect of the industry. He was promoted to Vice-President, and 25 years later to President. He oversees all operations of the company including all financial aspects, marketing and promotions, employee interaction and the sales team. He interacts with accounting and legal experts, develops new and different button style products and visits other button factories internationally. Mr. Jacobs calls on customers and attends trade shows to keep up with changing product lines. He opened a sales and marketing office in Hong Kong over 42 years ago. He is responsible for marketing and networking.
In addition to the New York location, Mr. Jacobs has developed additional locations in Connecticut, Hong Kong, Shanghai, China, Vietnam, Korea, New Delhi, India, Santiago and San Pedro de Macoris in the Dominican Republic and Central America. The Connecticut office is over 100,000 square feet and is both a large manufacturing plant and sales office. The locations in China and New Delhi are also manufacturing plants. The other locations out of the U.S. are sales offices only and there are additional sales offices throughout the U.S. Mr. Jacobs travels to all of these locations, recently making his 93rd trip to the Orient. This has enhanced the company's international reputation, and all locations are operated with the same ethical and moral standards that they adhere to in the U.S. Emsig sells approximately 40 million buttons weekly for manufacturers worldwide, in addition to the military buttons produced for the U.S. Armed Services. They are dedicated to the safety of the environment and the well-being of their employees.
The Putnam, Connecticut warehouse has made great strides in going green by upgrading their electrical system, cutting their electrical use in half and running on a lean-manufacturing management operational program that no other button manufacturer has done. They have also introduced the world's first 100% recycled product line, comprised of over 50,000 pounds of former waste materials. They also created an "unbreakable button" named the Super-Durable® button which is the leader in this product.
Emsig values their workers and shows this by offering several programs. In the Putnam, Connecticut location, should any worker suffer from an addiction of any kind, the company will fund the cost of treating the addiction by covering the cost of their treatment in an accredited addiction center. If a worker wishes to take computer courses at a local college, Emsig will fund the course tuition. They also have arranged a Workers Fund Program where workers contribute a percentage of money and the company will match that contribution 100 percent. A committee, made up of workers, manages the fund and determines eligibility for payouts. Emsig is not involved in managing the fund. The United Nations has examined this Workers Fund program and is considering having other companies throughout the world use this proto-type.
Mr. Jacobs is the Founder and Former First President of the American Manufacturing Button Association and is affiliated with the American Apparel Association. He received the Pollution Prevention Award from the New York State Governor in 1996. Mr. Jacobs was recently recognized on the Reuters Billboard in Times Square in New York City. Emsig was featured on the "World's Greatest" television show.
Born on February 7 in Brooklyn, New York, Mr. Jacobs attended college. He is married to Pearl and they have three daughters. Larry is extremely proud of his daughters. Carrie Jacobs, Ph.D. is the Executive Director and founder of The Attic Youth Center, Philadelphia's only agency exclusively serving the LGBTQ youth. She has worked with adolescents and their families for over 35 years as a social worker, psychologist, researcher, mentor and community leader and has processed over 18,000 LGBTQ youths. Since 1993, her efforts have focused on developing The Attic Youth Center. She is committed to creating social change through education, training and outreach and by the process of developing LGBTQ youth into leaders for the future through Attic programming. Carrie also provides professional training for social workers and child welfare professionals on the needs and experiences of LGBTQ youth. She served on Mayor Michael Nutter's Advisory Board on LGBT Affairs where she chaired the Education Committee and serves on the current Advisory Board on LGBT Affairs under Mayor Jim Kenney. Dr. Carrie Jacobs has received numerous honors and awards for her advocacy including the Lambda Award for Distinguished Service by an Individual Woman and has been recognized by the Human Rights Campaign for her outstanding work on behalf of LGBTQ youth. The Attic Youth Center was just honored with a large donation by the Philadelphia Chapter of Impact 100.
Mr. Jacobs states in conclusion to his very dedicated and balanced life in work and at home, "The lessons I have learned are true for anyone in any field of business: love what you're doing; dedicate yourself to what you are doing; and never be afraid of hard work. But most importantly, love your family and make sure you have their support in what you're doing. Always work as hard as you can and give back to society as much as you can. We make a difference."
In his spare time, Larry enjoys family activities, old cars, gardening, parasailing, and volunteering.
For further information, contact
www.emsig.com
.
About Strathmore's Who's Who Worldwide
Strathmore's Who's Who Worldwide highlights the professional lives of individuals from every significant field or industry including business, medicine, law, education, art, government and entertainment. Strathmore's Who's Who Worldwide is both an online and hard cover publication where we provide our members' current and pertinent business information. It is also a biographical information source for thousands of researchers, journalists, librarians and executive search firms throughout the world. Our goal is to ensure that our members receive all of the networking, exposure and recognition capabilities to potentially increase their business.
Contact
Strathmore Worldwide
Susan Perrault
516-677-9696
www.strathmoreworldwide.com
Syndi Reibman

Contact