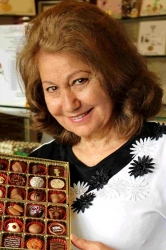 Toronto, Ontario, Canada, September 01, 2017 --(
PR.com
)-- Ingrid Läderach Steven of Toronto, Ontario, Canada has been recognized as a Woman of Excellence by Strathmore's Who's Who Worldwide for her outstanding contributions and achievements for over 30 years in the retail chocolate field.
About Ingrid Läderach Steven
Ingrid Läderach Steven is the Owner of Swiss-Master Chocolatier which is a tiny chocolate shop selling Swiss-made fine chocolate. The shop caters to some of the most influential and wealthiest in Canada, that not only sells "beautiful chocolates for beautiful people," but also provides what customers call "a sanctuary" where people from all walks of life congregate and are made to feel "at home." It is a welcoming place where customers can talk, laugh, and even cry. Her beautiful chocolates are an added bonus to make any event extra special. Ingrid imports over 70 different top-quality truffles, pralines, and novelty items flown directly from her homeland, Switzerland. Being a Swiss, Ingrid insists on receiving the very best products that are sold in her native land. Her daily tasks include such things as arranging for shipments, dealing with suppliers, customs, staff, translations, décor, deliveries and other responsibilities that make her business run smoothly. She was awarded "Retailer of the Year" by the Toronto Chamber of Commerce.
Ingrid was born in Lucerne, Switzerland, and was educated in Switzerland, Germany, the United States and Canada. She also graduated from the prestigious Richemont Culinary School in Switzerland. Before pursuing her career in chocolate, she studied music in Denver, Colorado, specializing in opera. As a result, she traveled and performed throughout the U.S. and on television. Her mentor, Dr. Brico, who brought Ingrid to the U.S., always felt that Ingrid's career would span the globe. An Oscar-nominated movie was made about her teachings. But sadly, after an unfortunate illness, her vocal chords were damaged and Ingrid could no longer sing and her career came to an abrupt halt. But as Ingrid says, "…one door closes and another one opens." She decided to pursue her second love, chocolate, which she continues to sell "with love" to this day. Ingrid is married, has two wonderful daughters, and adores her four grandchildren.
Ingrid feels that her "beautiful chocolates" are something that can make your taste buds sing, and even yodel! Many of her chocolate products are designed for special occasions with themes to include Happy Birthday, Thank You, For You, Happy Anniversary and of course, I Love You; all to make any event the very best. All chocolates come in beautiful gift packaging, which has helped make Swiss-Master Chocolatier thrive for the past 32 years. The shop has received unbelievable media attention and political attention. Ingrid feels that when she offers "the best chocolate" and the "best of herself," she has done her job right on both a business as well as a personal level.
For further information, please contact www.swissmaster.com.
About Strathmore's Who's Who Worldwide
Strathmore's Who's Who Worldwide is an international advertising, networking and publishing company based in Farmingdale, New York. They are proud to be able to satisfy their clients and continue to have repeat clientele due to their longevity and pride in their products and services. The Owners strive to connect business professionals to enhance their contact base and networking capabilities so they can get the acknowledgment and publicity within their industries and beyond. The Strathmore family has been providing these valuable services for over two decades. They target executives and professionals in all industries to be featured in their publication and on-line directory. Industries include business, law, education, healthcare and medicine, fine arts, IT, government, science, real estate, entertainment and many more accomplished fields. Professional profiles are listed in an annual hardcover journal and in a detailed, searchable database on the website www.strww.com.