Our Kids Media Expands Private Education Promotion to Poland
Our Kids Media, the leading private school resource in Canada through its website ourkids.net, announces its expansion into Poland.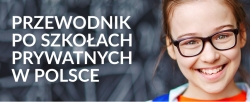 Warsaw, Poland, August 29, 2017 --(
PR.com
)-- Our Kids Media (OKM) announces the official launch of its expansion into Poland on September 2, 2017. OKM has hired staff in Warsaw and launched a rapidly growing portal, ourkids.net/pl, with helpful information for parents and a growing collection of advice and tools. Detailed profiles and reviews of local private schools will also soon be added providing families with a quick and easy way to find and compare their schooling options. The web portal on Polish non-public education is patterned on Ourkids.net's expansive research on private education in Canada, where it is the dominant source of information for parents researching and considering private K-12 schools.
Our Kids Media's expansion into Poland is a natural fit with both the company's unparalleled ability to educate parents about private schools, and its founders' roots in Poland. Private education is a blossoming industry in Poland and surrounding countries, as parents seek the best possible education they can find in a rapidly-changing world. "Our expectations for non-public schools are higher than they are for a state school," says Dr. Aleksandra Teresa Woźnicka, who has sent her children to a Polish private school since 2013. "The fact that we are paying tuition means that parents have more say in the school, and in their children's education."
"We are very excited to be moving into the sphere of Polish private education," says Andrew Stawicki, President of Our Kids Media. "We feel no one understands both private education and Polish culture as well as we do. We are enthusiastic about the growth of non-public, social and international schools in Poland, and we feel that little has been done to help families understand the differences between schools. With our nearly 20 years of experience working with private schools, we have learned so much about the real values a private school education will provide a student. In Canada, we are Canada's trusted source to private schools, offering parents school research tools through various channels including online, print media and through face-to-face interaction at our private school expos. Now, we bring that experience to Poland, to help families living in Poland find the school that is the right fit for them, and to help local schools connect with families searching for education alternatives."
The company hopes to create more jobs in Warsaw and other cities as it expands operations. Private and non-public schools in Poland will also be able to expand their operations through promotion tools like ourkids.net/pl, creating more teaching jobs and better preparing Poland's young people for a progressively internationalised world. Non-public education in Poland – introduced in the 1980's and still gaining in popularity – furthers the betterment of the children of Poland, through increased education choices and specialization.
View the growing web portal on the subject:
niepubliczne szkoly w Polsce
.
For more information, contact Andrew Stawicki, andrew@ourkids.net, 905-272-1843
About Our Kids Media
Our Kids Media (OKM) is the Trusted Source for families looking for the best learning and living experiences for their children. Its promotional resources include the website ourkids.net, as well as consumer magazines, social media channels, video and photo platforms, and mobile applications. OKM was established in 1997.
Contact
Our Kids Media
Andrew Stawicki
905-272-1843
ourkids.net

Contact