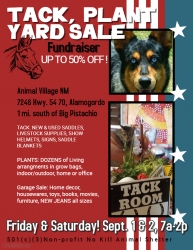 Alamogordo, NM, August 29, 2017 --(
PR.com
)-- Animal Village NM Holds 2-day Tack, Plant, & Yard Sale Sept. 1 & 2, 7am-2pm
According to Animal Village NM No-Kill Animal Shelter director, Sunny Aris, "It's time to get tacky to save lives!" With funding for abandoned animals a constant challenge, Animal Village NM gratefully accepted a recent donation from Sanders & Danley Feed Store, now restructured as a trucking company. "We jumped at the chance to try something new to save dogs and cats!" explained Aris.
With thousands of dollars worth of new tack and livestock supplies, including new saddles, blankets, riding helmets, and more, Aris laughed. "Heck, we have supplies for pigs to ponies.There's something for anyone who cares for or shows livestock. And most of it will be 50% off, right down the line, with the new saddles 30% off." One saddle and gear is being raffled off and will be on display, with tickets $5 apiece, and 5 for $20. "When we raise $700 for the package, we'll pick a winner, no need to be present. We've already sold almost $200.00 worth of tickets."
"Everyone's been wondering why our park looks like a nursery lately," added Judi Anderson, AVNM board member. "We had hundreds of plants donated and or discounted a couple of months ago from Lowe's Home Improvement and Home Depot, some were not in great shape, some were. They're beautiful and vibrant now, and will really color up personal and business holiday events! We have perfect sizes for indoor or outdoor, home or business, all in these cute, innovative aerating grow bags with handles."
The yard sale part of the event is being organized by Annie French of Alamogordo. "People love to get great deals, and we're making this a 2-day event, so that retired people can take advantage of a Friday event, and avoid crowds," Miss Annie explained. "We've got quality home furnishings, dishware, boxes of new jeans, shoes and boots, books, brand new comforters, even a really large, super expensive wool rug. It's amazing what people have donated, much never used at all! We're pricing it right, because it's all to help the animals, and we want to get everything sold this weekend!" Miss Annie added, "Volunteers are really needed for this event, and on a daily basis. We'd sure be grateful to folks who love these dogs and cats, who will offer help with set-up, tear-down, help to run the event. We also need regular help with weeding, mowing, and trimming the grounds here. Just leave a message at 575-446-4685."
Tours are scheduled throughout the event, and adoption application fees will be waived during the event, with pet adoption counselors available to help adopters with applications. "Many healthy pets are available with zero adoption fees," explained Miss Annie French.
Animal Village NM is located at 7246 Hwy. 54 70, Alamogordo, NM 88310. Phone: 575-446-4685. Event details on Facebook. Media Contact: Sunny Aris, Director, Animal Village NM 575-415-8310