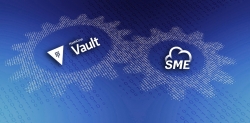 London, United Kingdom, August 30, 2017 --(
PR.com
)-- The
Storage Made Easy™ (SME) Enterprise File Fabric™
now integrates with external Vault Key Server by HashiCorp allowing keys for data encryption/decryption to be stored in a Vault instance and be called on demand by the SME File Fabric as needed.
The primary purpose of the File Fabric encryption feature is to protect a user's/organisation's files on local and remote storage resources, such as Object Storage, Dropbox or Google Drive, and to achieve this in an easy and seamless manner.
Vault is an enterprise grade centralised secret management platform providing audit logs and key rolling. Service Providers, that offer File Fabric as a service to organizations, can now allow their customers to manage and securely store the encryption keys themselves to meet industry and region specific legal regulations such as GDPR or HIPAA.
For companies that deploy the File Fabric on-premises, this new Vault integration is a strong solution for data protection with full secure audit logs.
Kamran Yousaf, Chief Technology Officer (CTO) of Storage Made Easy said, "In view of the recent data breaches across the globe this new feature gives businesses confidence that their data is secure and they are in control of access no matter where its stored."
Encryption is an important part of the forthcoming General Data Protection Regulations (GDPR) as it protects personal (and company) data so even if a remote service is breached, the data is rendered useless as it cannot be accessed. This new integration will be a must for Service Providers who want to enable their customers to manage their own encryption keys for GDPR purposes.
About Storage Made Easy (SME)
The Storage Made Easy™ Enterprise File Fabric™ enables IT to regain control of "cloud data sprawl" to unify on-premises and on-cloud files into a single easily managed converged infrastructure with policy-based controls for governance, audit and security.
The File Fabric solution provides a "blanket" enterprises wrap around all their data: on premises, within public and private clouds, as well as on third-party software vendor clouds (SharePoint Online and Salesforce for example).
Customers use the SME File Fabric product to unify corporate data to enable workgroup collaboration with universal controls for security, encryption, audit, and data access. Companies will have access to a greater understanding of where and how sensitive data is stored, transferred, and accessible with particular focus on how companies are able to police and audit data to ensure enforcement of the General Data Protection Regulations (GDPR) in addition to other regional data legislation.
Storage Made Easy is the trading name of Vehera LTD.
Follow us on Twitter @SMEStorage and visit us at www.StorageMadeEasy.com to learn more.