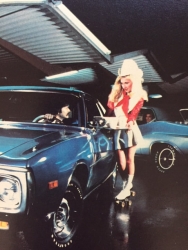 Detroit, MI, September 06, 2017 --(
PR.com
)-- The non-profit academic collective of creative professionals who invented Wild Golf are back at it again with live-reads of their one- to five-minute stories of romance and baseball called "StoryTubes." Visitors can now listen as they follow the popular tales about the world's two favorite pastimes. The stories are read by Stellar Scholars Roundtable authors or by their lead country-singing talent, Paul Lubanski.
Celebs and readers of the two popular sites,
stellarromance.com
and
saintsandscholars.org
have hailed from all 50 States, Washington, D. C. and 26 foreign countries from Sydney to Argentina, from Moscow to the "City of Love" itself, Paris. Stories are linked free to loved ones by the sites' staunch reading base.
"Without our loyal readership there is no Stellar Romance or Saints and Scholars," asserts Roundtable editor-in-chief Frank Dattilo. "We make no conscious effort to innovate, but it does seem like our creations like Wild Golf and StoryTubes are often leading-edge programs. I think that is a credit to our team of professionals who range from educators, newspaper editors, advertising creative directors to doctors, lawyers and graphic designers. All of them bring their own successful backgrounds in their respective disciplines of endeavor. For us, it is payback in the purest sense, be it a commission for a high school student or retired emeritus artist."
What's next for Stellar Scholars? Creative Director Ashley Sword underscores: "Everything we undertake features a passionate interest of ours from original Avanti/GT Hawk paintings by Tony Randazzo and Don Wieland to the avant-garde prose poems of Kathy Moffet."
"We have our own original music and our own line of Stellar Novellas," concludes Editorial Director Jennifer Watters. "We may not set out to be first in a chosen field, but it seems like we end up there all the same."
Next week, the Bettie Page Wild Golf charity event for breast cancer survivors and now live-read StoryTubes from the Roundtable authors themselves.
What next?
How high the moon!