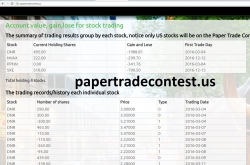 Palo Alto, CA, September 12, 2017 --(
PR.com
)-- Paper Trade Contest (PTC-papertradecontest.us) is a website/online cloud service to record a client's gains/losses on each individual stock in a client's account, and acts as a log book for a client's trading history, even trades from different brokerages. It saves every transaction a client has made from the beginning, automatically giving the client a break down of the gains and losses of each stock, conveniently summarizing them in a single page. It will never purge or remove a client's trading record not matter how old the record is, unlike most of the brokerages. The system will give clients a real time break down of each individual stock's gain and lose. Clients can record any stock in any currency in the world market, like Chinese stock, European stock, etc.
Clients can also see their trading records and compare with the best traders' trading results with their gains/losses in real time, and learn from the best traders to improve the client's own trading skills. Although clients can record any stock in any currency for the client's own bookkeeping, but for taking part of the trading competition, only US stocks clients input/submit will be selected/counted/calculated/matched.
These trading records could be a client's real world trades, or just client's mock up paper trades. Either way it will work. The restriction of the competition is that a client's trade records for the day should be submitted before the opening of the market next day, and the record can not be changed after client submits. (Gains and losses based on current market price, final ranking subject to validation of trades and cut off date stock price.)
Registration requires only a valid email address. After registration, a client's account will be available immediately to use. For a limited time period, as of now, those whose accounts show up in the top 5 trader list will receive a small hand made jade bull pendant as a token of achievement.